Scandinavian baby names are in. Combining beautiful simplicity with Viking vibes, it's not difficult to see why.
Here, we're bringing you some of the most popular Scandinavian names from across the region. Technically, that should just mean Norway, Sweden, and Denmark, the three old Scandinavian kingdoms. But often Finland and Iceland are included too – and so we'll be doing the same.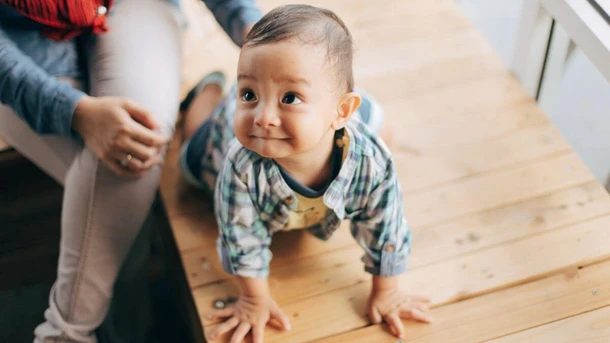 So, from country to country, what are some beautiful Scandinavian names for boys and girls? Let's find out.
In this article 📝

Scandinavian baby names in Norway

Scandinavian names from Denmark

Baby names from Sweden

Not strictly Scandinavian baby names from Finland

Icelandic names
Scandinavian baby names in Norway
We'll start with Norway, the famous land of Vikings and fjords. According to Statistics Norway, here are the most popular Scandinavian names in Norway right now. Yep, they're divided by boys and girls, but if there's a name you love that's right, you go for it, whatever the gender.
Top Norwegian names for boys
Jakob / Jacob
Emil
Noah / Noa
Oliver
Filip / Fillip / Philip / Phillip
William
Lucas / Lukas
Liam
Henrik
Oskar / Oscar
Aksel / Axel
Theodor / Teodor
Elias
Kasper / Casper
Magnus
Johannes
Isak / Isaac
Mathias / Matias
Tobias
Olav
Sander
Håkon / Haakon
Jonas
Ludvig / Ludvik
Benjamin
Matheo
Alfred
Alexander / Aleksander
Victor / Viktor
Markus / Marcus
Theo / Teo
Mohammad / Mohammed / Mohamed
Herman / Hermann
Adam
Ulrik
Iver
Sebastian
Johan / Johann
Odin
Leon
Nikolai / Nikolay
Even
Leo
Kristian / Christian
Mikkel
Gustav
Felix
Sverre
Adrian
Erik / Eric
Norwegian names for girls
And some Scandinavian baby girl names? Here are Norway's favorites.
Nora / Norah
Emma
Ella
Maja / Maia / Maya
Olivia
Emilie
Sofie / Sophie
Leah / Lea
Sofia / Sophia
Ingrid
Frida
Sara / Sarah
Tiril / Tirill
Selma
Ada
Hedda
Amalie
Anna
Alma
Hanna / Hannah
Eva
Mia
Thea
Live
Ida
Astrid / Astri
Ellinor
Vilde
Linnea / Linea
Iben
Aurora
Mathilde / Matilde
Jenny
Tuva
Julie
Oda
Sigrid
Amanda
Lilly / Lily
Hedvig
Victoria / Viktoria
Amelia
Josefine / Josephine
Agnes
Solveig
Saga
Marie
Eline
Oline
Maria
Scandinavian names from Denmark
Now to Denmark. In Statistics Denmark's list of top baby names from across the country, you'll see many familiar names to those in Norway, alongside some unique to Denmark.
Let's take baby boy names from Denmark first:
Danish boy names
Alfred
Oscar
Carl
Noah
William
Oliver
Aksel
Arthur
Valdemar
Lucas
Malthe
Emil
August
Victor
Elias
Elliot
Felix
Magnus
Hugo
Anton
Theo
Liam
Viggo
Nohr
Otto
Theodor
Lauge
Frederik
Matheo
Anker
Adam
Loui
Storm
Alexander
Johan
Konrad
Villads
Erik
Albert
Pelle
Walter
Marius
Milas
Christian
Benjamin
Asger
Vilhelm
Vincent
Villum
Bjørn
Danish girl names
Now for some more Scandinavian baby girl names. Are there any that could suit your little one?
Alma
Agnes
Ella
Freja
Clara
Emma
Sofia
Karla
Anna
Ellie
Olivia
Alberte
Nora
Aste
Laura
Josefine
Ida
Luna
Frida
Lily
Ellen
Mathilde
Astrid
Isabella
Aya
Esther
Lærke
Maja
Emily
Andrea
Victoria
Liva
Marie
Vilma
Saga
Mille
Sofie
Emilie
Leonora
Rosa
Liv
Merle
Hannah
Lea
Molly
Alba
Sara
Gry
Alva
Johanne
More Danish baby name inspiration: 70+ Danish Baby Names and Their Meanings
Baby names from Sweden
And across the fjords and snowy hills to Sweden. More Scandinavian baby boy names coming right up! Here are the most popular in the country:
Swedish boy names
Noah
William
Hugo
Lucas
Liam
Oscar
Oliver
Matteo
Elias
Adam
Leon
Walter
Alfred
Leo
Nils
Harry
Alexander
Vincent
Isak
Theo
Charlie
August
Arvid
Ludvig
Theodor
Elliot
Frans
Filip
Sam
Adran
Louie
Axel
Otto
Gabriel
Malte
Josef
Mohamed
Elton
Ebbe
Benjamin
Olle
Henry
Melvin
Edvin
Aron
Albin
Jack
Frank
Tage
Swedish girl names
Alice
Maja
Elsa
Astrid
Wilma
Freja
Olivia
Selma
Alma
Ella
Lilly
Signe
Vera
Ines
Alicia
Ebba
Agnes
Clara
Saga
Leah
Stella
Ellie
Alva
Ester
Julia
Ellen
Luna
Molly
Hedda
Lo
Nova
Mila
Iris
Sigrid
Sara
Linnea
Lova
Juni
Celine
Nora
Isabelle
Edith
Sofia
Nellie
Emilia
Leia
Meja
Livia
Elise
Emma
What names are illegal in Sweden?
Yes, you might have heard about this. According to the notorious Swedish naming law, any name given to a child has to be approved by the local authorities. But they won't be approved if those names "can cause offense or can be supposed to cause discomfort for the one using it". So, yep, some names are illegal in Sweden. The most famous?
Ikea
Metallica
Ford
Superman
Veranda
Elvis
Brfxxccxxmnpcccclllmmnprxvclmnckssqlbb11116. Seriously. It's apparently pronounced "Albin". Two parents named their child this in protest against the naming law. (Did someone ask What is the rarest baby name? Brfxxccxxmnpcccclllmmnprxvclmnckssqlbb11116 could well be it.)
Not strictly Scandinavian baby names from Finland
Now, it doesn't quite count as Scandinavia. But Finland is definitely considered a Nordic country. And for that reason, you'll forgive us for including them.
Here are the most popular Finnish names for boys and girls thanks to the Finnish Digital and Population Data Services Agency.
Finnish boy names
Juhani
Olavi
Johannes
Mikael
Oliver
Ilmari
Onni
Elias
Eino
Matias
Toivo
Antero
Leo
Viljami
Tapani
Väinö
Emil
Tapio
Aatos
Eemil
Benjamin
Veikko
Samuel
Arma
Eemeli
Alvar
Oskari
Kristian
Vilho
Noel
Eeli
Kalevi
Daniel
Oiva
Aleksi
Julius
Valtteri
Matti
Sakari
Alexander
Akseli
Leevi
Joel
Aleksanteri
Hugo
Anton
Otso
Eetu
Henrik
Lauri
Finnish girl names
More Scandinavian baby girl names:
Maria
Sofia
Aurora
Olivia
Emilia
Aino
Matilda
Amanda
Linnea
Helmi
Ilona
Ellen
Lilja
Alina
Helena
Aada
Isla
Aava
Eveliina
Kerttu
Eevi
Aleksandra
Anna
Elli
Alexandra
Ella
Viola
Kristiina
Pihla
Elsa
Inkeri
Alisa
Hilla
Elina
Iida
Emma
Kaarina
Elisabet
Minea
Amalia
Johanna
Venla
Enni
Anneli
Katariina
Lyydia
Elisabeth
Isabella
Lumi
Orvokki
Icelandic names
Now, to Icelandic names. Again, not strictly Scandinavian baby names. But there are some similarities. For example, as in Sweden, babies in Iceland can't be given names that could "cause the bearer embarrassment".
If your question is What are good Viking names?, look no further. Icelandic baby boys and girls are blessed with spectacularly Viking-esque names.
But you'll need to know a couple of things before we get started. The alphabet has some surprises. Most importantly, ð and Þ. These are similar to the English "th" sound. Not exactly the same, but close enough.
Without further ado, thanks to Statistics Iceland, here are the most popular baby boy and baby girl names in Iceland.
Icelandic boy names
Jón
Sigurður
Guðmunder
Gunnar
Ólafur / Olav
Einar
Kristján / Christian
Magnús
Stefán / Stefan
Jóhann
Björn
Arnar
Árni
Bjarni
Helgi
Halldór
Pétur / Pjetur
Daníel
Kristinn
Ragnar
Gísli
Þorsteinn
Guðjón
Aron
Sveinn / Svend
Róbert / Robert
Páll
Óskar
Birgir
Davið
Andri
Alexander
Viktor / Victor
Bjarki
Tómas
Haukur
Jóhannes
Ágúst
Karl / Carl
Ásgeir
Brynjar
Benedikt
Haraldur
Atli
Kjartan
Sigurjón
Friðrik
Baldur
Þórður
Hilmar
Icelandic girl names
Guðrun
Anna
Kristín
Sigríður
Margrét / Margrjet
Helga
Sigrún
Ingibjörg
María
Jóhanna
Elín
Katrín
Hildur
Eva
Lilja
Ragnheiður
Ásta
Guðbjörg
Elísabet / Elísabeth
Erla
Sara
Guðný
Ólöf
Steinunn
Auður
Kolbrún
Sólveig / Solveig
Bryndís
Inga
Berglind
Hulda
Íris
Ásdís
Þórunn
Unnur
Hrafnhildur
Þóra
Rakel
Birna
Þórdís
Jóna
Halldóra
Erna
Karen
Linda
Hanna
Edda
Telma
Thelma
Harpa
➡️ Don't miss also our full list of Scandinavian baby boy names and Scandinavian baby girl names
That's it! That's our list of Scandinavian baby names for boys and girls. Did any catch your eye?

114 women are talking about 'baby names' on Peanut. Download the app to join the conversation.
👶
More baby names:
130 Czech Baby Names and Their Meanings
117 Armenian Baby Names and Their Meanings
165 Norse Baby Names for Boys and Girls
72 Celtic Baby Names
88 Dutch Baby Names
98 Lithuanian Baby Names
450+ Magnificent Norwegian Baby Names (With Meanings)
160+ of the Best Traditional European Baby Names
96 Stunning Ukrainian Baby Names
96 Romanian Baby Names for Your Bebelus