We've got single mother and son quotes, single mom quotes to daughter, and strong single mom quotes to inspire.
Because, let's be real, being a single mama can be hard.
Really hard.
Every day can feel like a juggle between work, life, and your little one.
And sometimes, it can be difficult keeping all the balls in the air at once.
So here are some strong single mom quotes to help support.
We all need some support at times – a gentle reminder that we're doing the right thing and that we'll get through whatever mamahood throws at us.
Whether you're a single mom who needs some comfort and encouragement, or you know one looking for words of wisdom, we've put together our favorite single mom quotes to help.
In this article: 📝

What can you say about being a single mom?

Strong single mom quotes

Exhausted single mom quotes

Single mom quotes funny

Single mother quotes for moms with daughters

Single mother and son quotes

Absent father single mom quotes

How do you appreciate a single mom?

What should you not say to a single mom?

What is a powerful quote for a single mom?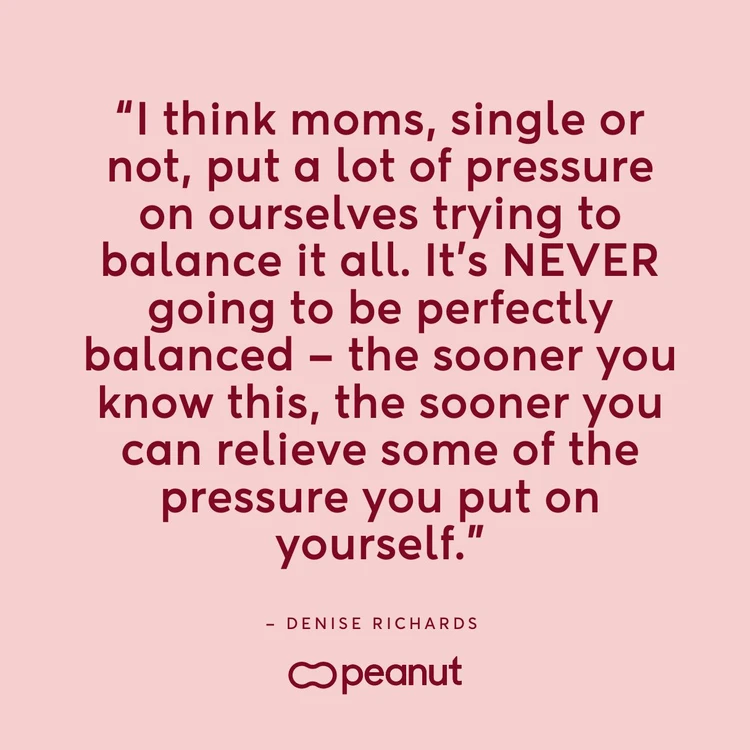 What can you say about being a single mom?
First up, our favorite strength, inspirational single mom quotes to motivate and remind you of your beautiful spark:
"I'm a single parent. What's your superpower?" – Unknown

"Nothing you do for children is ever wasted." – Garrison Keillor

"Just because I am a single mother doesn't mean I cannot be a success." – Yvonne Kaloki

"In the end, I am the only one who can give my children a happy mother who loves life." – Jane Wolsey Baadsgaard

"I think moms, single or not, put a lot of pressure on ourselves trying to balance it all. It's NEVER going to be perfectly balanced – the sooner you know this, the sooner you can relieve some of the pressure you put on yourself." – Denise Richards

"Being a working mother and a working single parent instills in you a sense of determination." – Felicity Jones

"Single moms: You are a doctor, a teacher, a nurse, a maid, a cook, a referee, a heroine, a provider, a defender, a protector, a true superwoman. Wear your cape proudly." – Mandy Hale

"I can't tell you how much I respect all the single parents out there doing it all solo." – Jennie Finch

"We are born of love; love is our mother." – Rumi

"Single mothers have as much to teach their children as married mothers and as much love to share – maybe more." – Anne Cassidy

"I know how to do anything, I'm a mom." – Rosanne Barr

"I don't think I realized how stressed I was, being a single parent. It was really, really stressful. It's not easy on anybody." – Reese Witherspoon

"I would say to any single parent currently feeling the weight of stereotype or stigmatization that I am prouder of my years as a single mother than of any other part of my life." – J.K. Rowling

"I think it's really important for every mother to find their own way." – Solange Knowles

"Being a single mum is twice the work, twice the stress, and twice the tears but also twice the hugs, twice the love, and twice the pride." – Anonymous
Strong single mom quotes
You are strong. You are powerful. You are… you.
Here is some strong single mom quotes to remind you of your inner strength:
"Single motherhood is an amazing thing; it's a blessing." – Kelly Cutrone

"You always have to carry on. And you can, because you have to." – Kate Winslet

"She has to have four arms, four legs, four eyes, two hearts, and double the love. There is nothing single about a single mom." – Mandy Hale

"Sometimes the strength of motherhood is greater than natural laws." – Barbara Kingsolver

"Motherhood is the ultimate call to sacrifice." – Wangechi Mutu

"I want to show the example that you can be a single mother and work and handle a lot of other things at the same time." – Christina Milian

"It's difficult, but far from impossible, and we smile more than we cry." – Regina King

"I value so many people who have to work full time, definitely single mothers. Their work is the hardest work. I applaud it so much." – Molly Sims

"As a single mum, you'll discover inner strengths and capabilities you never knew you had." – Emma-Louise Smith

"Being a single parent is not a life full of struggles, but a journey for the strong." – Meg Lowrey

"A single mother has a backbone made of steel and a heart made of gold."– Anonymous

"There will be so many times you feel like you failed. But in the eyes, ears, and mind of your child, you are a SUPER MOM." – Stephanie Precourt

"When you're a single parent, you're often lonely yet seldom alone. There is no backup… It is mothering without a net." – Amy Dickinson

"A single mom tries when things are hard. She never gives up. She believes in her family, even when things are tough. She knows that above all things, a mother's love is more than enough." – Deniece Williams

"Some days, she has no idea how she'll do it. But every single day. It still gets done." – Anonymous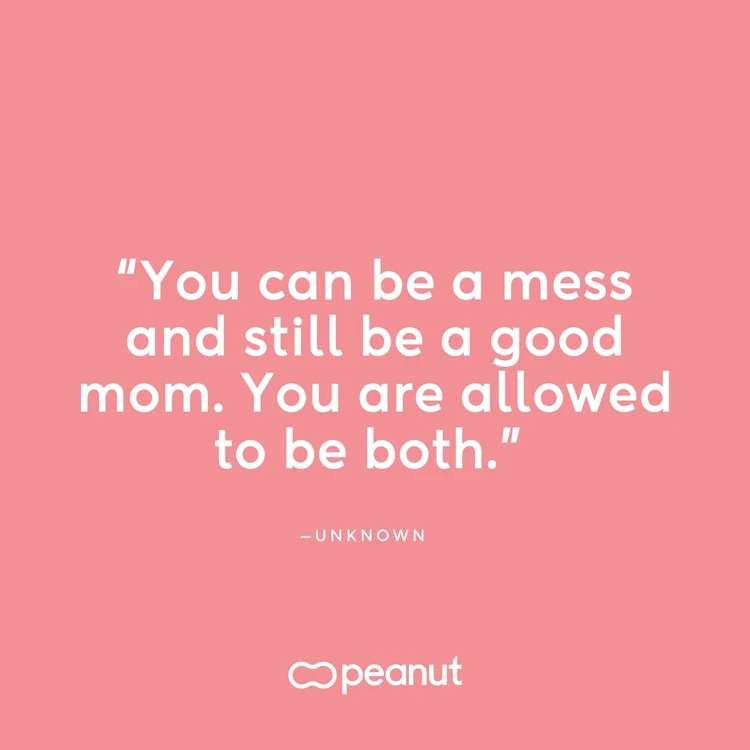 Exhausted single mom quotes
Overwhelmed quotes; can't sleep quotes; a single mom working two job quotes – whatever way you slice it, being a single mama is tiring.
So here are some relatable exhausted single mom quotes to remind you that you're not alone:
"As a single mom, I'm juggling a lot and working long hours. Yes, it costs them a little, but what my children get in return is a mother who is energized and content." – Edie Falco

"I have time for everything I had time for before. I just have an added amazing thing in my life." – January Jones

"The best gift a parent can give children is time… Single moms need to know it's okay to have a little 'me' time." – Denise Richards

"What is free time? I'm a single mother. My free moments are filled with loving my little girl." – Roma Downey

"I didn't plan on being a single mom, but you have to deal with the cards you are dealt the best way you can" – Tichina Arnold

"You make it work. You keep getting out of bed. Sometimes it's just because you know there's a cup of coffee downstairs." – Michelle Williams

"Even though it leaves me sleep-deprived, I love every bit of motherhood." – Neha Dhupia

"You do the best you can. Some days you feel really good about yourself, and some days you don't." – Katie Holmes

"We may not want to say it out loud, but motherhood is hard." – Stephanie Ruhle

"I was once a single mother, with very few resources, so I have a special place in my heart for women in difficult situations." – Linda Lael Miller

"You can be a mess and still be a good mom. You are allowed to be both." – Unknown
➡️ Want more? Check out 4 Ways for Exhausted Moms to Get More Rest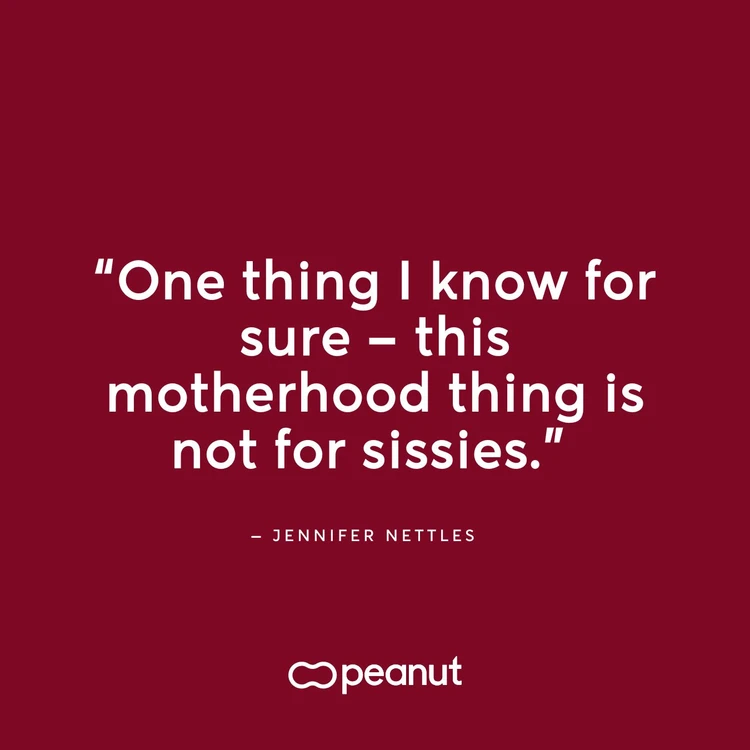 Single mom quotes funny
Sometimes, all you can do is laugh.
Other times, it's all you can do not to.
Hang up those funny mom memes, here are our favorite hilariously funny single mom quotes to bring a smile to your face:
"One thing I know for sure – this motherhood thing is not for sissies." – Jennifer Nettles

"I'm a hustler. I'm a single mom, so whatever I've gotta do, I gotta do." – Sherri Shepard

"Motherhood is nitty and gritty and brutal and wonderful. Sometimes, you're really in the trenches!" – Constance Marie

"Yes, I'm a single mom by choice. I decided to raise a child, not marry one." – Anonymous

"That's what motherhood is: you're working; you're doing 25 different jobs, and you're not getting paid." – Melissa Peterman
Single mother quotes for moms with daughters
Single mom to a beautiful baby girl?
You're showing your daughter so much strength and power right now, just by being you.
If ever you need reminding of how strong you are, here are some single mom quotes to daughter:
"I have a great career, and I have my daughter. So what I don't have is not as important to me as what I do have." – Padma Lakshmi

"Remember that a single mom is just like any other mom and that our number one priority is still our kids. Any parent does whatever it takes for their kids, and a single mother is no different." – Paula Miranda

"You are doing what is best for you and your children. You can't ever be faulted for that. Hang in there." – Skoy Chicago

"If you ever feel like giving up, just remember there is a little girl who wants to be just like you. Don't disappoint her." – Anonymous

"The strength of my mother is something I didn't pay attention to for so long. Here she was, this single mom, who was part of the Great Migration, who was part of a Jim Crow south, who said, 'I'm getting my kids out of here. I'm creating opportunities for these young people by any means necessary." – Jacqueline Woodson
➡️ Want more? Check out 100+ Unconditional Mother-Daughter Love Quotes
Single mother and son quotes
Mama of boys?
We see your strength and we raise you these poignant single mother and son quotes:
"Being raised by a single mother, I learned to appreciate and value independent women." – Kenny Conley

"I am a single mom and I'm the breadwinner and I have to work and I have to do these things and that's just the way it is. I don't think my son even knows any different." – Charisma Carpenter

"The only man in my life is my son, and it's probably going to stay this way for a while… I go to bed wearing a very baggy one-piece cheetah suit, just because it makes my son laugh. My sexy lingerie has been locked in a drawer for a while!" – Sandra Bullock

"I pride myself on finding balance. I love making music, and I love raising my boys. I find time to make both a priority." – Sheryl Crow

"I'm not really single. I mean, I am, but I have a son. Being a single mother is different from being a single woman." – Kate Hudson
➡️ Want more? Check out 60 Mother and Son Quotes to Brighten Your Day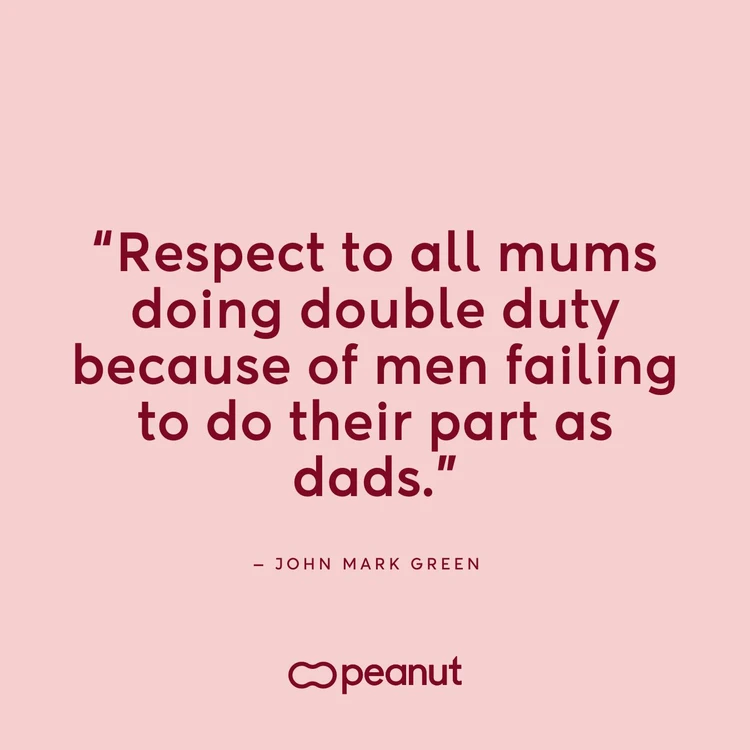 Absent father single mom quotes
Some of the most meaningful single mom inspirational quotes acknowledge the harmful hands we've been dealt.
If you're a single mom because of an absent father, use these strong single mom quotes to rekindle your power:
"The strength of a woman is not measured by the impact that all her hardships in life have had on her; but the strength of a woman is measured by the extent of her refusal to allow those hardships to dictate her and who she becomes." – C. JoyBell C.

"I don't think you necessarily have to be part of a traditional nuclear family to be a good mother." – Mary Louise Parker

"Each child is biologically required to have a mother. Fatherhood is a well-regarded theory, but motherhood is a fact." – PJ O'Rourke

"I decided instead of being embarrassed of my failed marriage and ashamed of being a single mother, I was going to OWN it. Being the best mother you can be and giving your kids the BEST life possible has nothing to do with your relationship status and you don't have to be happily married to have a 'picture-perfect family'." – Amanda Stanton

"Do not ask for healing at the feet of those who broke you." – Rupi Kaur

"She remembered who she was and the game changed." – Lalah Delia

"The loves of my life are my children and my mother. I don't feel as if I need a man." – Diane Keaton

"Make a positive difference in your children's lives. Act and speak about your co-parent with respect and integrity." – Allison Pescosolido

"We may encounter many defeats, but we must not be defeated." – Maya Angelou

"Because your child is your first priority, you're more selective, so in order to let someone into that world, they have to be really special." – Helena Christensen

"I know it's hard being a single parent, but I'd rather do it by myself than with someone who doesn't want to." – Anonymous

"Respect to all mums doing double duty because of men failing to do their part as dads." – John Mark Green

"Gone are the days when you would sit and wait for your knight in shining armor. Be brave, be independent, and believe that you can do it, and you can do a better job." – Anonymous

"Mothers – especially single mothers – are heroic in their efforts to raise our nation's children, but men must also take responsibility for their children and recognize the impact they have on their families' well-being." – Evan Bayh
How do you appreciate a single mom?
Single moms deserve all the appreciation in the world – the OG GOAT.
If there's a single mom in your life, whether they're a friend, family member, or even you yourself, show your appreciation with these simple things:
Offer to look after their children for them – even if you look after them while mama is in the same room or house, just doing her own thing.

Cook for her or take her out for a meal – with or without the children.

Treat them to a new piece of clothing or a shopping trip – something that reminds her of her worth outside of being a mom.

Send her a card or a note with your favorite single mom quotes that truly compliments her. Be a cheerleader as she leads.

Listen to their story. Make space for them to debrief. Every day can be a struggle, but having a place to outpour the emotion is what gives single moms everywhere strength.

Ask. The simplest but best way to appreciate a single mom. Ask what you can do to help. It takes a village to raise a child.
➡️ Want more? Check out 59 Self-Care Ideas For Moms
What should you not say to a single mom?
Now we've covered the most inspirational single mom quotes; what about some things you should never say to a single mom?
We asked our Peanut community of single moms, and they shared the worst things that have been said to them about their single mamahood.
Trigger warning: some of these things said to single moms are truly insensitive:
"Who's the baby daddy?"

"You look tired."

"Come and hang out, it's just for one night."

"I just stopped by, didn't think I needed to call or text in advance."

"I'm worried about your children."

"Your baby needs a father figure."

"You should come out tonight; maybe you'll meet your kids' new dad."

"You must feel so tired/fed up/lonely."

"I'm so glad I have a husband to help."

"I feel bad for your kids, coming from a broken home."
Assumptions about single parenting are never positive from those without experience.
Being a single mom is complex, trying, and not a one-size-fits-all experience (is any parenting situation?).
Single parenting is not always a choice, but for most moms, it does mean radical acceptance and getting on with balancing it all.
And how this looks for each mom is as different as how they feel about their circumstances.
Save the judgments, park the pity, and practice boundaries – with a little empathy and listening, you'll be amazed at the pearls of wisdom single moms have in abundance.
Just look at the single moms on Peanut:
"I dealt with 9 months pregnant alone even though I had my parents by my side I can assure you I'm pretty sure it's not the same. And I dealt with being cut open alone even though my mom was by my side. Again it's not the same. And when I first came home, again I went home alone even though my parents were there, but it's still not the same. Watching him grow up without having his dad around it really hurts at moments. But I know I'm strong enough to do it alone. So I can do anything." – Danielle

"I was a single mom for a really long time raising my oldest daughter alone. There were moments of sadness and grief for the loss of that "perfect family," but honestly, I was overall happier without her father in our lives. You and your baby are still a family regardless if there is a man there or not." – Glenda

"I've been doing it for 5 years. I love being able to take advantage of the little moments that he doesn't get to share with my son. But at the same time, it would be nice to have someone else scream on the sidelines cheering your greatest creation on." – Jazmine

"Not being able to share that with the person who's supposed to go through that with you is so hard. But I look at it this way; he's the one missing out, I love my kids so much I wouldn't trade this for anything. It's made my son more attached to me, and I feel like he's honestly my best friend. No mother should have to be a father too.. but the ones who are, are just that much stronger." – Emily
What is a powerful quote for a single mom?
So those are our favorite inspiring and strong single mom quotes, along with ways to appreciate single moms, chosen by our single mamas of Peanut.
But we'll leave you with our very favorite of all the single mom quotes:
"There's a feeling sometimes in motherhood that you're alone in what you're going through, and none of us are alone. We're all going through the same thing." – Nia Vardalos
Remember that, no matter what, you're never alone as a single mama.
Our single mom support group is here to help.
It takes a village to raise a child but a powerful woman to lift them higher.