We'll start with an apology. We're about to make your life very difficult by showing you these Spanish girl names.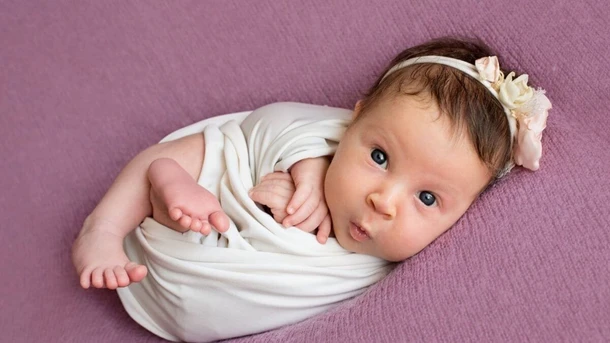 Let us explain.
Choosing a baby name is hard work—mainly because you have to not choose so many. You'll mull them over, say them out loud, run them past your loved ones, decide, undecide.
And now we're going to show you these gems. And you're going to be like, but there are so many beautiful Spanish names for girls. Where do you even begin?
So, we apologize. In advance. But unfortunately, it has to be done.
And with that out of the way, let's get into it:
In this article: 📝

Spanish girl names and meanings

What are the most popular girl names in Spain?

What are the most popular Hispanic girl names?

What are some unique Spanish girl names?
What are some Spanish names for a girl?
Spanish girl names and meanings
There are 21 countries in the world that have Spanish as their official language—and it is spoken in many more. The Hispanic population is spread throughout the world.
Whether you are part of this community or simply have a sincere appreciation for it, Spanish girl names are steeped in history, twinkling with musicality, and power-packed with meaning.
Let's get going. We'll kick off in Spain.
What are the most popular girl names in Spain?
(While not all of these names are of Spanish origin, they are popular in Spain at the moment.)
Alyson. Related to Alice and Alison, it means noble.
Amelie. From Germanic roots, it means work. In Urdu, Amelia means princess.
Andrea. This name evolved from Alexandria and is the feminine form of the name Andrew.
Anna. Grace. Beauty. Favor.
Arya. Originally of Indian and Persian origins, Arya means noble one.
Bianca. Pure.
Calie. Beautiful.
Carolina. Song of joy. 🎶 It's also the feminine version of the name Charles.
Clara. Clear. Bright. 🔆
Cloe. Blooming. 🌼
Dani. God is my judge.
Elëa. A shortened form of Eleanore, which means sun ray. 🌞
Elena. Shining light. 🌟
Ella. Young girl.
Elyana. God has answered.
Émie. Universal. Whole.
Emilie. This name sounds so beautiful and has a rather interesting meaning—rival. It could be a name for a young activist ready to take on the world.
Eva. Life. 🌱
Freddi. Gaining in popularity as a girl's name, Freddi means the peaceful ruler. 👑
Hanna. Happiness or flower. 💐
Isabella. The Spanish version of Elizabeth, this ever-popular name means devoted to God.
Julia. This name appears everywhere from Shakespeare to the saints. Of Roman origin, it comes from descendants of the house of Julius. And if that's too far back to contemplate, the name also has connotations of youthfulness.
Kelia. Chapel 💒
Lara. Protection.
Lea. From the Hebrew Leah, this name has a bunch of meanings: pasture, delicate and weary.
Léana. To wrap yourself around something.
Lily. Purity and innocence.
Lina. A ray of sunshine. ☀️
Luna. Moon. 🌙
Lyana. God has answered.
Maëlle. Princess. 👸🏽
Maliah. Star of the sea. ⭐🌊 (Maliah also means rebellious. Don't say we didn't warn you.)
Maya. Of Hebrew origin, Maya means water.
Mia. My or mine. For a girl who belongs only to herself. 💖
Mila. Short for the Spanish name Milagros, meaning miracles. In Slavic languages, Mila means dear.
Noa. My love. 💓
Nora. Honor.
Olivia. A name that never seems to go out of style, Olivia means olive. 🫒
Robin. Fame. Bright. 🔆
Ryan. And increasingly popular as a girl's name, Ryan translates as little king. 👑
Sierra. Strength—and the Spanish words for saw and mountain range.
Sofía. Wisdom. Another name that's not going anywhere.
Talya. Heaven's dew. 💧
Zoe. Life. 💓
And then, because Spanish is spoken in so many places other than Spain, let's have a look at what other Spanish girl names are popular.
119 women are talking about 'Spanish baby girl names' on Peanut. Download the app to join the conversation.
What are the most popular Hispanic girl names?
Adelina. Noble.
Alejandra. Defender of mankind. No pressure, little one.
Alysia. Noble person.
Antonella. First born.
Aurora. The dawn. 🌅
Ava. Like a bird. 🐦 Also, voice and life.
Camila. Servant. Helper. And a legendary warrior from Virgil's Aeneid.
Catalina. Pure.
Esmeralda. Emerald. ✨
Fernanda. Adventurous and bold.
Francisca. Truthful.
Gabriela. God is my strength.
Gloria. Quite simply: glory.
Guadalupe. A title of the virgin Mary is "Our Lady of Guadalupe"—and Guadalupe translates as valley of wolves.
Jazmin. A contemporary Spanish version of Jasmine. It also means Gift from God in Arabic.
Juana. God is gracious.
Julieta. Little Julia. A name that keeps its sweetness through the ages.
Leticia. Joy. 🎈
Lola. Lola (and its longer form, Dolores) means "Lady of Sorrows" in honor of the Virgin Mary.
Lucía. Light. 💡
Luisa. Famous warrior. Nice.
Margarita. Yes, this name means more than the cocktail. In fact, in Spanish, it means daisy. 🌼
Maria. A very popular name for a wished-for child.
Martina. Warlike. Badass.
Natalia. Christmas Day. 🎄
Paula. Humble. Little.
Regina. Queen. 👑 There you have it.
Renata. Rebirth.
Rosa. 🌹
Sara. Princess. 👸🏽
Stella. Star. 🌟 Stella can be a derivative of Estrellita.
Silvia. From the woods. 🌲
Teresa. Harvester.
Valeria. Strong and brave. 💪🏽
Veronica. This name comes with a range of powerful meanings: truth, purity, bringer of victory.
Victoria. Victory. Success. 🙌🏽
Yara. Seagull. And a Game of Thrones reference, of course.
And if you're looking for Spanish baby girl names that are out of the ordinary, here you go:
What are some unique Spanish girl names?
Aitana. Glory.
Alondra. Lark. 🐦
Eulalia. Of Greek origin, Eulalia means well-spoken.
Hilaria. The Spanish version of Hilary, it means cheerful.
Itzel. Star of the aurora sky. 🌠 Well, that's magnificent.
Jimena. Heard. 👂
Malena. Lock of hair.
Triana. Third.
Vega. A person who lives in the fields.
Vera. Faith.
**Yaël. **Mountain goat. 🐐 It also means God's strength. You pick.
Ximena. One who hears.
And then, pop two Spanish girl names together for double the beauty and strength:
Ana Paula
Ana Sofia
Maria Alejandra
Maria Camila
Maria Christina
Maria Fernanda
Maria Paula
And if you're looking for Spanish names for boys, head here.
Again, we're so sorry for making this so difficult. Or should we say: Lo Siento.
👶 Find more baby girl names:
Top Girl Names: The Ultimate List
Top 91 Finnish Baby Girl Names & Their Meanings
161 Cool Baby Girl Names And Their Meanings
90 Middle Names for Girls
57 Italian Baby Girl Names
168 Celtic Baby Girl Names for Your Daughter-to-Be
250 One Syllable Girl Names
The 111 Best Japanese Baby Girl Names
85 Persian Baby Girl Names for Your Daughter-to-Be
The 76 Best Turkish Baby Girl Names
100+ Russian Baby Girl Names for Your Baby
174 Indian Baby Girl Names for Your Little Daughter
212 French Baby Girl Names
65 Brazilian Baby Girl Names With Meanings
153 Greek Baby Girl Names And Their Meanings
The Top 100 African Baby Girl Names
112 German Baby Girl Names & Their Meanings
100 Latin Baby Girl Names & Their Meanings
90 Strong Baby Girl Names & Their Meanings
220+ Beautiful Norwegian Baby Girl Names
100 Scandinavian Baby Girl Names
50+ Beautiful Biblical Baby Names for Girls (& Meanings)
216 Awesome Australian Baby Girl Names & Meanings