You're about to have a beautiful bebé. No matter your background, you may be considering unique Spanish baby names for the little niña or niño that will be in your life forever.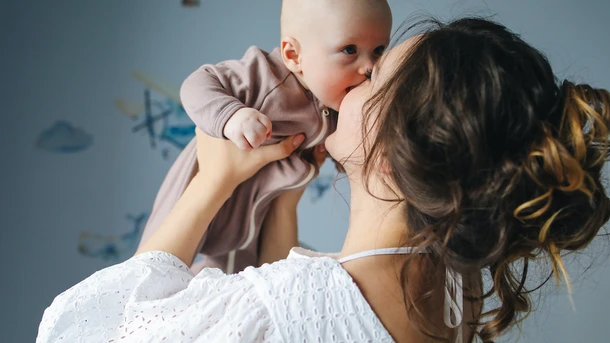 Spanish names are classics— they have been used for decades, often generationally, around the globe. These traditional names are always cool, whether they pay homage to abuela/abuelo or were found in your favorite Allende novel (you can't go wrong with Alba, Blanca, Clara, Pedro or Miguel… although you may think twice about Ferula).
Traditionally hispanic names like Sofia, Isabella and Valentina have reached celebrity status in their popularity amongst Spanish baby girl names. Other traditional latino names like Mateo, Santiago and Alejandro have also become mainstream Spanish baby boy names in the 2020's.
Unique Spanish names often have deep, religious meanings that give naming your baby an even bigger importance. It may take years before they understand the true meaning of their names, but you and your family all know these names mean baby is special.
A few of our favorite names with religious references are:
Mateo - meaning gift of god.
Sofia - meaning wisdom. It was the name of a Roman saint.
Alejandro - meaning defender of the people.
Isabella - meaning pledged to god.
Santiago - meaning Saint James, the patron saint of Spain.
Valentina - meaning health and strength.
116 women are talking about 'Spanish baby names' on Peanut. Download the app to join the conversation.
What are popular Spanish girl names?
Among the most popular baby names in the US, you'll find Isabella, Ava and Sophia consistently in the top 10. Gaining popularity are Ana, Angelina, Elena, Gabriela, Liliana, Maya, and Sofia.
Here's a list of the most popular girl's names in Spain - most have roots in Spanish, but some others are found elsewhere in Europe:
Abigail
Abril
Adriana
Agustina
Ainhoa
Aitana
Alana
Alba
Alejandra
Alexa
Alicia
Allison
Alma
Amaia
Amanda
Amalia
Ambar
Amelia
Amparo
Ana
Ana Paula
Andrea
Antonella
Antonia
Ariadna
Ariana
Aurora
Bianca
Camila
Carla
Carmen
Catalina
Celeste
Chloe
Clara
Claudia
Constanza
Daniela
Danna
Delfina
Elena
Elisa
Elizabeth
Emilia
Emily
Emma
Eva
Fernanda
Florencia
Francesca
Gabriela
Guadelupe
Isabel
Isabella
Isadora
Ivanna
Josefina
Juana
Julia
Juliana
Julieta
Justina
Lara
Laura
Leah
Lia
Lola
Lucia
Luciana
Luna
Maia
Maite
Maria
Maria Jose
Mariana
Martina
Mia
Miranda
Natalia
Noa
Nicole
Olivia
Paula
Paulina
Pilar
Regina
Renata
Romina
Salome
Samantha
Samara
Sara
Sofia
Valentina
Valeria
Vera
Victoria
Violeta
Ximena
Zoe
➡️ Don't miss our full list of Spanish baby girl names
What are some Spanish names for a boy?
Spanish boys' names rank high in the top names every year. Mateo, Jose, Angel, Santiago, Leonardo, Deigo, Luis, Miguel, Alejandro, Hugo and Pablo are all very popular these days (and all days). These names never go out of style, and do just as well with a Jr or Sr after them.
Here are some of the most popular names in Spain - some with Spanish origins, others drawing inspiration from other European countries.
Aaron
Adrian
Agustin
Alan
Alejandro
Alex
Alexander
Alonso
Alvaro
Angel
Antonio
Axel
Bastian
Bautista
Benicio
Benjamin
Bruno
Caleb
Carlos
Christopher
Ciro
Damian
Daniel
Dante
David
Diego
Dylan
Eduardo
Elias
Emiliano
Emilio
Emmanuel
Enzo
Ethan
Facundo
Felipe
Fernando
Francisco
Franco
Gabriel
Gael
Gaspar
Gonzalo
Hugo
Ian
Ignacio
Iker
Isaac
Izan
Jacob
Javier
Jeronimo
Joaquin
Jorge
Juan
Juan Diego
Juan Pablo
Julian
Leo
Leon
Leonardo
Leonel
Liam
Lorenzo
Luca
Lucas
Luciano
Luis
Manuel
Marcelo
Marco
Marcos
Mario
Martin
Mateo
Matias
Matthew
Maximiliano
Maximo
Miguel
Milo
Nicolas
Noah
Oliver
Pablo
Pedro
Rafael
Rodrigo
Salvador
Samuel
Santiago
Santino
Sebastian
Sergio
Simon
Thiago
Tomas
Valentin
Valentino
Vicente
➡️ Don't miss our full list of Spanish baby boy names
What are unisex Spanish baby names?
If you want to add a little intrigue or ambiguity to your kids' life, you may want a name that doesn't scream boy or girl, like these:
Angel
Azul
Baez
Dali
Elian
Jules
Madrid
Paz
Sage
Valentine
What are cute Hispanic names?
The cutest hipanic names are short names, only 1-2 syllables. Your littles will be saying their own names as soon as they learn to talk! We love Ana, Bella, Ava, Sofia and Maia as well as Alex, Mateo, Pablo, Mario and Hugo.
What are cute Mexican girl names?
10 of the most popular (and super sweet!) names are Olivia, Ava, Isabella, Emily, Camila, Luna, Sofia, Valentina, Stella and Aurora.
👶 More baby names:
117 Armenian Baby Names and Their Meanings
96 Romanian Baby Names for Your Bebelus
140 Portuguese Baby Names With Meanings
60 Magnifique French Baby Names
49 Bellissimi Italian Baby Names
60 Japanese Baby Names
166 Greek Baby Names
58 Biblical Baby Names
10 Irish Baby Names
90 Latin Baby Names
120 Polish Baby Names for Strong Boys and Girls
The Best 200 British Baby Names for Little Ones
130 Czech Baby Names and Their Meanings
88 Dutch Baby Names
98 Lithuanian Baby Names
450+ Magnificent Norwegian Baby Names (With Meanings)
160+ of the Best Traditional European Baby Names
96 Stunning Ukrainian Baby Names
70+ Danish Baby Names and Their Meanings
66 Charming Colombian Baby Names