Looking for the perfect spring baby names for new arrival? Read on for a list of our favorites. Yep, it's time to spring into action.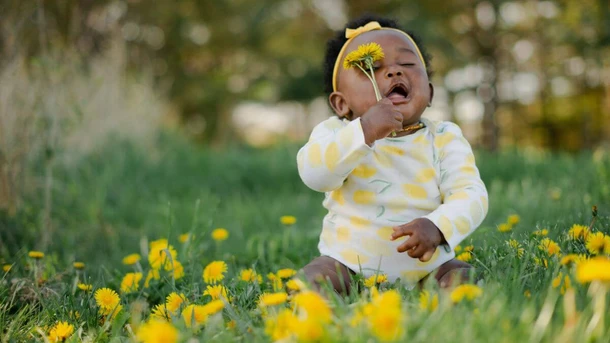 Spring is a belief in possibility, in hope, in the idea that the most beautiful things can come from the darkest days.
Birds, bees, blossoms, and bunnies. Awakenings, April air and, uh, allergies.
Spring is blissful, it's blooming, it's buttercups, and butterflies.
It's picnics and patios, nurseries and newness. And that's just the beginning.
No wonder Spring baby names are so inspiring.
Keen for a tour? We'll take you through our favorites.
In this article: 📝

What are some good spring names?

What baby names mean spring?

Spring girl names

Spring boy names
What are some good spring names?
Take your pick from the flowers that bloom in spring. (Think: Daisy and Rose.)
Choose a name that actually means spring. (Think: Aviva and Brigid.)
Or opt for something that speaks of rejuvenation and rebirth. (Think: Persephone and Renata.)
Whatever your spring tastes, there's something on the list for you.
We'll start with names that mean spring:
What baby names mean spring?
These names either mean spring or give a nod to the deities in charge of it:
Aviv. This Hebrew name means "spring season."

Aviva. And here's the feminine version. Aviva also means "spring season."

Caldwell. "Cold spring"

Cerelia. A name with Latin roots, Cerelia means "relating to springtime."

Chloe. This cute springtime name means "blooming," "fertility" and "green shoot."

Demeter. The goddess of agriculture and harvest, Demeter is the "earth goddess" in charge of fertility.

Eostre. This is the name of the West Germanic spring goddess. Another name for her is Ostara — and we'll get to her story a little further down the list.

Freyja. She's the Nordic goddess of love and fertility.

Frejr. And here's the male version — the Nordic god of fertility and peace.

Jarek. A Slavic boy's name, Jarek means "spring."

Jarylo. Also known as Yaryla, Iarilo, and Gerovit, he's the youthful Slavic god of vegetation, fertility, and springtime.

Laverna. This sweet French name means "born in the spring."

Maia. She's the Roman fertility goddess associated with spring, and she gives the month of May its name.

Odeletta. This name is of French origins and means "little spring."

Ostara. She's the ancient Germanic goddess of spring and the personification of the rising sun. She also managed to change a bird into a rabbit — an act, many say, might have to do with the existence of a certain chocolate-peddling bunny that comes out at this time of year.

Persephone. This Greek name actually means "bringer of destruction." So why does it make it onto our list? Persephone is also the goddess of spring, regrowth, and vegetation.

Vasant. A name with Sanskrit roots, Vasant means "springtime."
113 women are talking about 'spring baby names' on Peanut. Download the app to join the conversation.
Spring girl names
Acacia. This name of Greek origin means "thorny" and is the name of one of the hardiest trees.

Aurora. She's the goddess of the dawn.

Amaryllis. This gorgeous flower makes for a unique baby name.

Anastasia. "Resurrection"

April. The name of the fourth month, it signals the time when spring kicks into gear.

Abril. And this is the Spanish version.

Avril. And here's the French one.

Aya. This name of Arabic and Hebrew roots has a number of spring-related meanings — "miracle," "to fly swiftly" or "bird."

Azalea. This flower is part of the Rhododendron family, and makes for an original baby name.

Bea. Like the spring, Bea is a "bringer of happiness."

Blossom. 🌸

Brooke. The name of a "small stream," a brook is an ideal spot for a spring picnic.

Calla. This Greek name means "most beautiful."

Claire. Meaning "bright" and "clear," this name is the epitome of the perfect spring day.

Clover. This is the name of a sweet meadow flower.

Daisy. 🌼

Dawn. It's the beginning of a new day.

Deborah. This name has been on the map for a while and is worth a mention for its springtime buzz. It means "bee."

Esmeralda. This Spanish name means "emerald," the vibrant green gemstone that is the birthstone for May.

Fontanne. A refreshing French name, Fontanne means "fountain spring."

Florence. "Blossoming" and "flourishing"

Gaia. This Greek goddess is the source of it all — "mother earth."

Hyacinth. This flower blooms in the springtime.

Iris. With its exquisite flowers, this plant takes its name from the Greek work for rainbow.

Jonquil. This lovely flower offers an interesting, unique name.

Juniper. The name of an evergreen tree, juniper means "young."

Lily. An exquisite flower, the lily is a symbol of purity and innocence.

Magnolia. This beautiful bud is a sight to behold.

May. In honor of the month when spring is in full bloom, May makes for a sweet and simple baby name.

Meadow. A grassy field, the name Meadow evokes images of springtime fun.

Midori. With its Japanese roots, Midori means "green."

Nova. "New"

Oona. A name of Irish roots, Oona means "lamb." The anglicized version is Una.

Pascala. "Born at Easter"

Petunia. This flower is shaped like a trumpet and shares its name with a Harry Potter character.

Poppy. The symbol of the remembrance of the First World War, the poppy comes infused with meaning.

Primrose. This pretty flower is one of the first to bloom in the springtime.

Rainbow. 🌈

Raine. This delightful name can mean "she is singing" and "queen" — and, of course, sounds like the falling rain. All of its meanings conjure springtime growth and beauty.

Renata. "Reborn"

Robin. A sweet little songbird, Robin makes for a lovely gender-neutral name.

Rose. 🌹

Sunny. ☀️

Susanna. This name with Hebrew roots means "lily."

Violet. For lovers of the purple bloom.

Willow. It refers to the willow tree, but also means "freedom."
Spring boy names
Adam. "Son of the red earth"

Aries. This name refers to the ram, and is the zodiac sign that corresponds with the first steps of spring.

Attwell. A name of English origins, Attwell means "lives by the spring."

Cruz. With connotations of Easter, this Spanish name means "cross."

Dennis. This name is for a follower of Dionysus, the Greek god of fertility, vegetation, and wine.

Denver. This lush name means "green valley."

Eden. A garden of delights, this name means "place of pleasure."

Enfys. This colorful Welsh name means "rainbow."

Grove. "A small collection of trees"

Hawthorn. "Lives where the hawthorn hedges grow"

Javier. "New house"

Naveen. With its Sanskrit roots, Naveen means "new."

Neo. Meaning "news," this one rose to fame with The Matrix film franchise.

Neville. "New town"

Owen. A name with Irish and Welsh roots, Owen means "youthful."

Pascal. From its French roots, this name means "Easter child."

Pascoe. And this is the Cornish variation of Pascal.

Phoenix. This name means "dark red" and belongs to the mythological creature that rose from the ashes to be born again.

Xavier. With Arabic origins, Xavier means both "new house" and "bright."

Zenebe. This Amharic name is popular in Ethiopia and means "raining."
All the best finding the perfect name for your spring chicken. 🐣
👶 More baby names:
83 Cottagecore Baby Names
90 Sunny Summer Baby Names With Meanings
100 Space Baby Names for Boys & Girls
180+ Nonbinary Baby Names For Your Little One
138 Nature Baby Names
150 of the Most Cool and Rare Baby Names
75 Water Baby Names
100+ Baby Names That Mean Peace
50 Baby Names That Mean Fire
100 Anime Baby Names
132 Ethereal Elvish Baby Names
100 Disney Baby Names
582 Mystical, Magical Baby Names
45 Dragon Baby Names for Your Little Firecracker
72 Wonderful Winter Baby Names
65 Fabulous Fall Baby Names