Dreaming of your baby's crib? It's a big purchase, and having it made up and ready for your little one is one of the big milestones in preparing for the day you bring them home.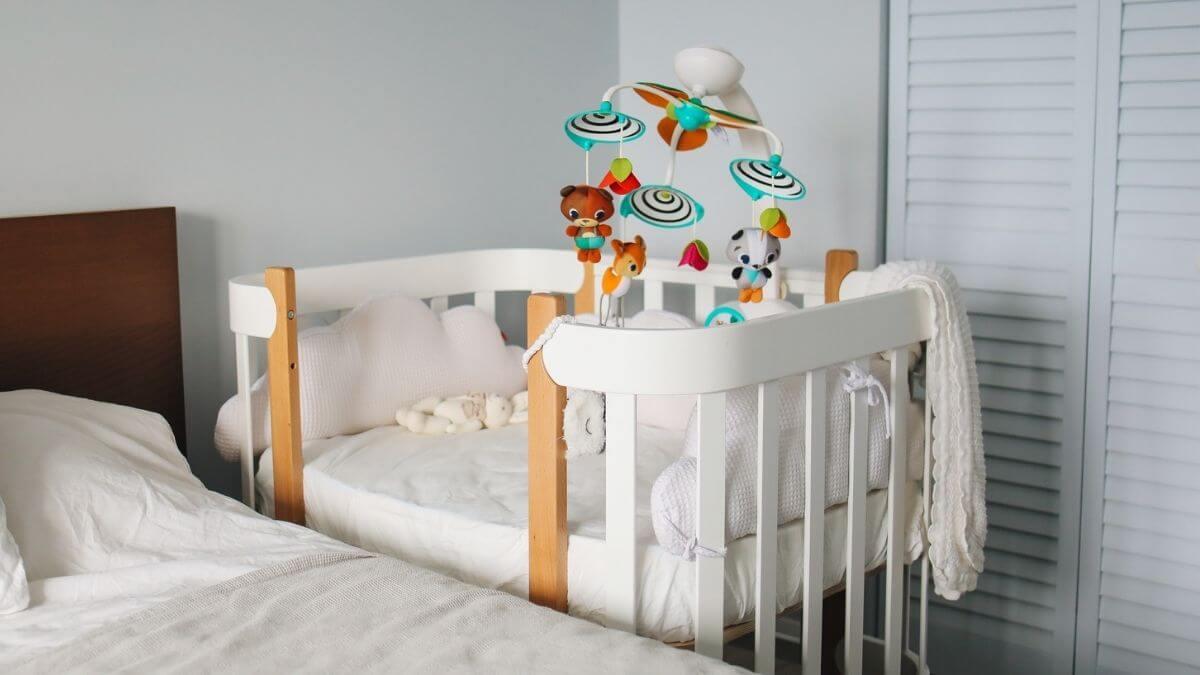 When you're buying your baby's crib, you also need a mattress, and getting one that's the perfect fit is important for their safety. So what's the deal with crib mattress sizes, and how do you get it right?
In this article 📝

Standard crib mattress dimensions

How do you know that the mattress fits?

What about bassinet and cradle mattress size?

Does a standard crib mattress fit an IKEA crib?
Standard crib mattress dimensions
Baby beds come in all sizes, but the good news is that their mattresses do too. Whatever you've chosen, you will be able to find the right mattress.
In the U.S., it's the law that all cribs must fit what's known as a standard full-size crib mattress. And what size is a standard crib mattress?
The length of the crib mattress must be between 51 ⅝ and 53 inches.

The width of the crib mattress must be between 27 ¼ and 28 inches.
As for thickness, crib mattresses are usually between four and six inches thick, depending on what they're made from. Thicker isn't necessarily better. Your baby will get the safest sleep on a mattress that's firm, supportive, and fits the crib frame, however thick it is.
So as long as you're not making the crib yourself in your family woodshop, or inheriting an heirloom from before the standards were set, it should be a standard size.
This means that a mattress that suits it will also be easy to find. Yay!
How do you know that the mattress fits?
If you can put more than two fingers between the mattress and the edge of the crib, it's too small. Although it feels like a very small gap, babies wriggle a lot when they sleep, and if there's even a chance they could get stuck, you should swap the mattress for one that's a better fit.
What about bassinet and cradle mattress size?
There's more good news here.
Bassinets, cradles, and mini-cribs are what's known as 'non-full size'. But! Although they're all different shapes, there's also a law that states that these beds must be sold with a mattress that fits them, so you won't have any extra shopping stress added to your plate, if you want your peanut to snooze in one of these.
But how do I know what size crib mattress to buy?
If you have a standard crib, just measure the inside, and buy a mattress that matches or is very slightly smaller than those dimensions. And if your baby is going to be catching their Zs in something smaller, the mattress will already be included when you buy it.
Does a standard crib mattress fit an IKEA crib?
Yes, absolutely. The standard crib dimensions at IKEA in the U.S. are 52 by 27 ½ inches. IKEA crib mattresses have exactly the same dimensions, but any other standard crib mattress should also fit. And, just as we said above, the cradle that they stock will come with a fitted sleeping pad.
Is a crib mattress the same as a toddler mattress?
Babies need less give in their sleeping surface, to support them better and to stop them from pushing their hands and feet down the side of the mattress and getting stuck, and some parents notice that their toddlers prefer a softer bed.
Lots of cribs also let you remove the sides once your little one gets big enough to climb out on their own.
That's why some mattresses are sold as having a firmer side for young babies in the crib, and a softer side for toddlers. But as long as the crib mattress is still in good condition, there's no reason that your future big kid can't keep using it until they're ready for a full-size single bed.
😴 You'll find more advice on safe sleeping for babies right here:
Baby Sleep Temperature Guidelines
How to Dress Baby For Sleep
How to Get Your Baby to Sleep in a Crib