Summer maternity clothes don't have to be boring and shapeless. Read on for our ideas on staying cool and comfortable — while also rocking that bump.
It's getting hot in here.
And taking off all our clothes is not always an option.
Cute summer maternity clothes to the rescue!
The muumuu and caftan are pregnancy classics.
But what else is out there on that mamahood catwalk?
We'll take you through our favorite options.
And because your feet are so important, we'll start right at the bottom.
In this article: 📝

Summer pregnancy shoes

Summer maternity clothes
Summer pregnancy shoes
Here's what to look out for when finding your perfect fit:
Arch support, non-slip soles, and extra room to allow for swelling.
You may have heard that pregnant women gain a half shoe size.
Yep, it's true.
This is NOT one of those pregnancy old wives' tales.
Here's why this happens.
The hormone relaxin kicks into gear to, well, relax your ligaments for pregnancy and birth.
And it may also loosen up the ligaments in your feet.
This means your foot may get a little longer and wider.
Fluid retention and swelling in the mid to late stages of pregnancy can exacerbate this.
All in all, you may be shopping for a bigger shoe.
(Some research suggests that your feet may in fact stay at their larger size post-pregnancy. Good news if you're buying new shoes for the occasion.)
While comfort in pregnancy is often a matter of personal preference, when in doubt, look out for the AMPA Seal of Acceptance.
This means that your shoes have been verified for their contributions to your foot health.
Right.
So what are the classics when it comes to pregnancy summer footwear?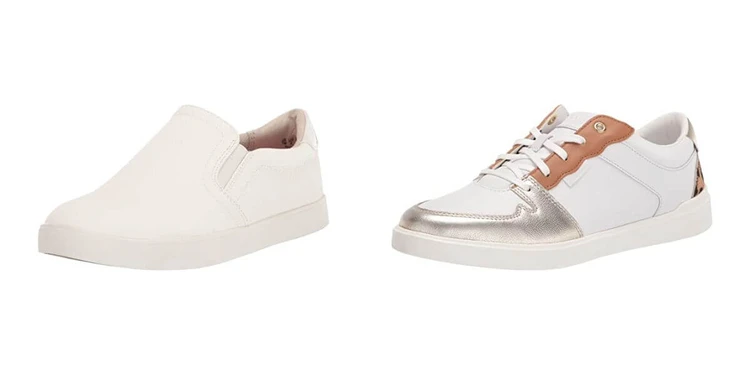 1. White sneakers
These babies are well worth investing in for ultimate comfort and style.
Pair them with anything from shorts, to jeans to a boho dress.
Look for arch support, a gentle footbed, and toggles to avoid having to call someone every time you need to fasten them!
And we endorse getting them in other shades too, if your budget allows.
Dr. Scholl's and Cole Haan are both great brands to look into.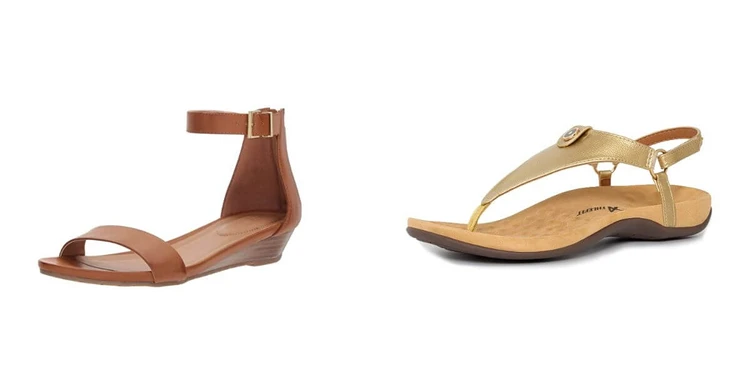 2. Dressy sandals
A couple of pairs of pretty sandals can give you a pep in your step and serve as dressier options for pregnancy.
Ideally, avoid backless shoes for long periods, as these will make your toes work hard to keep the shoe on, which can cause long-term problems.
These Kenneth Cole wedge sandals have just enough of a heel to feel fancy but still secure.
And we love these Orthotic Athlefit dressy thongs with arch support.
Sandals are also a great alternative to flip flops which can actually have a worse effect on your feet than being barefoot.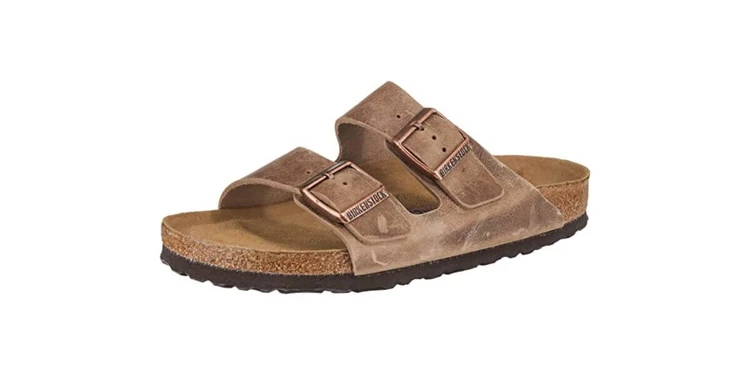 3. Day-in day-out sandals
When it's hot and sweaty, being able to simply slip your feet into a shoe without having to bend down is first prize.
A shoe like the classic Birkenstock goes a long way to fulfill this brief.
Available in a variety of colors and styles, and with a soft supportive cork footbed, they have a lot to recommend them.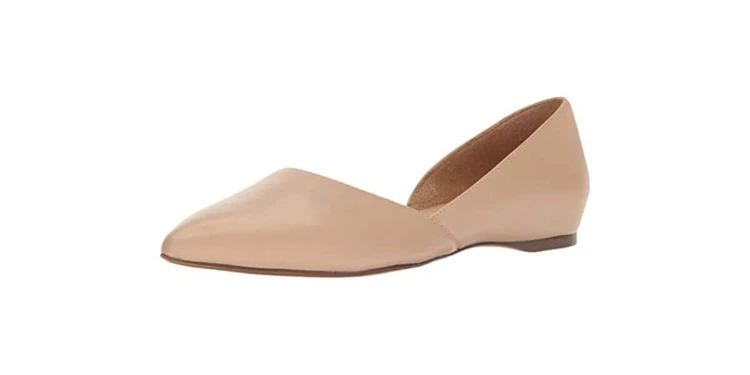 4. Neutral flats
If open shoes are not your vibe, look into a gorgeous stylish pump like these Naturalizer Women's Samantha Pointed Toe Flat.
Brilliant for both the office and a casual brunch and offering all the right support.
Summer maternity clothes
Here again, comfort is key.
If you feel like rocking a crop top, go for it!
Is a 70's style caftan your vibe?
Awesome.
So take our list and mix and match according to your unique style and tastes.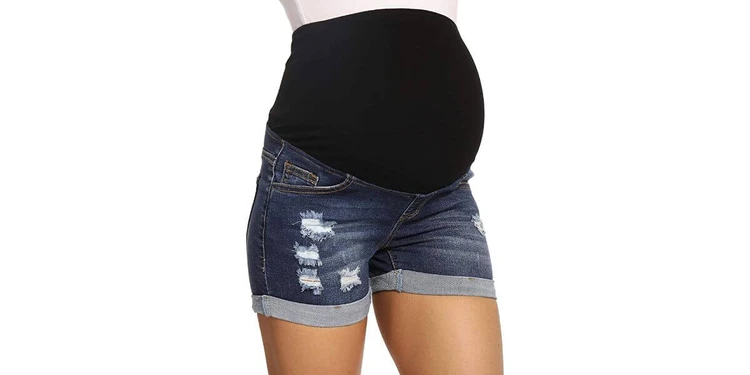 5. Denim shorts
Nothing says summer like a pair of denim cutoffs.
Find a maternity pair with an adjustable waist and you'll get tons of wear out of them — maybe even after baby is born.
Pair with a tank or your favorite tee, and you're A for a casual day away!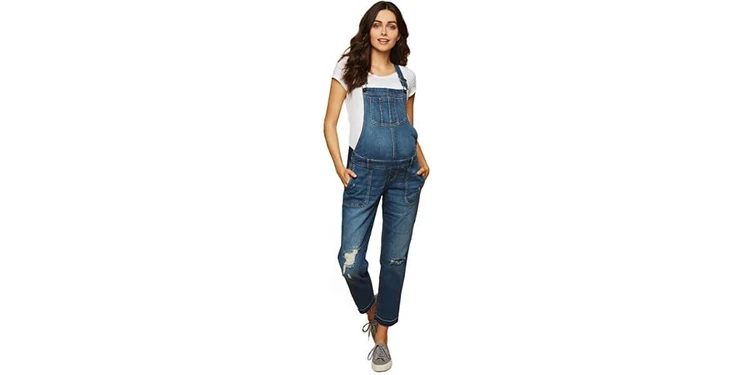 6. Cutoff Overalls
While we know it's not a look for everyone, cutoff overalls can be super cute and airy.
Wear with a crisp white shirt underneath, a cute crop top, or even a sports bra.
Easy breezy.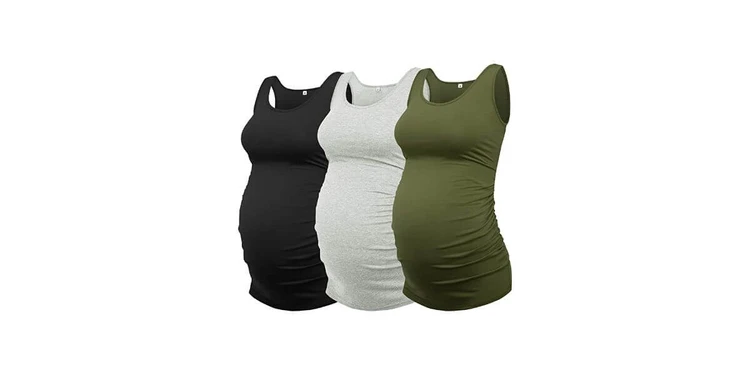 7. Tank tops
Tank tops are THE best for summer.
They hide a multitude of sweaty underarm sins and are a good basic to have for under other shirts.
Our advice?
Have at least one in white and one in black in your wardrobe.
This Amposh 3-pack ticks all the boxes.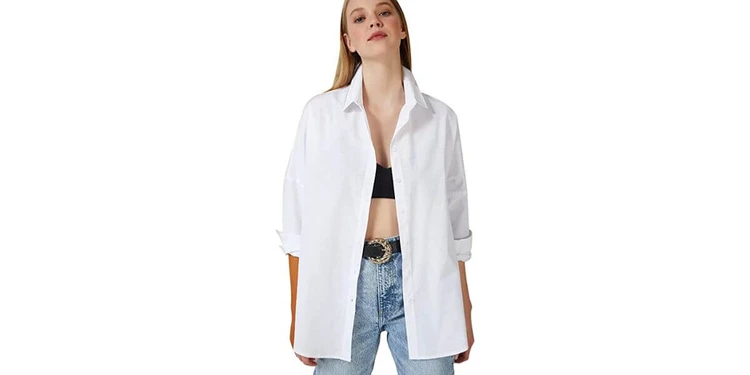 8. An oversized shirt
Look at these options from Big Dart.
Nothing is as cool in summer as cotton, and a rolled-up sleeve and popped collar can look very stylish over a pair of jeans or shorts.
Pair with simple leather flats or white sneakers.
Magic.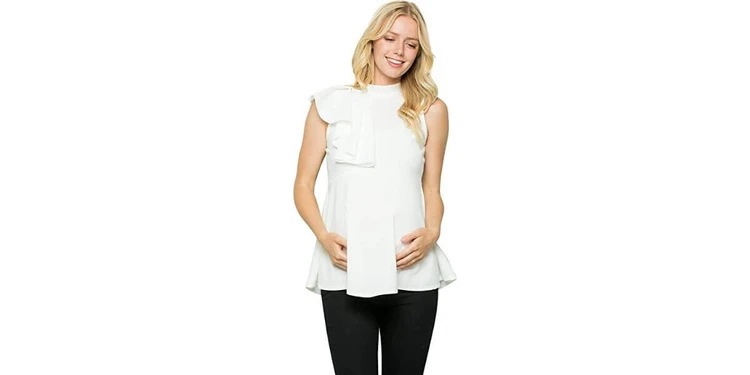 9. Blouses
The range of options for maternity clothes has truly bloomed since our own mamas were pregnant.
Keep an eye out for prints you like, or simple unfussy staples in black, gray, blue, and white.
There's sure to be a design for every occasion.
If you're finding yourself sweatier than usual, look for sleeveless options for comfort, or stick with black and white.
We love this My Bump Maternity Cascading Side Ruffle Peplum Top.
You may just want one in ALL the colors.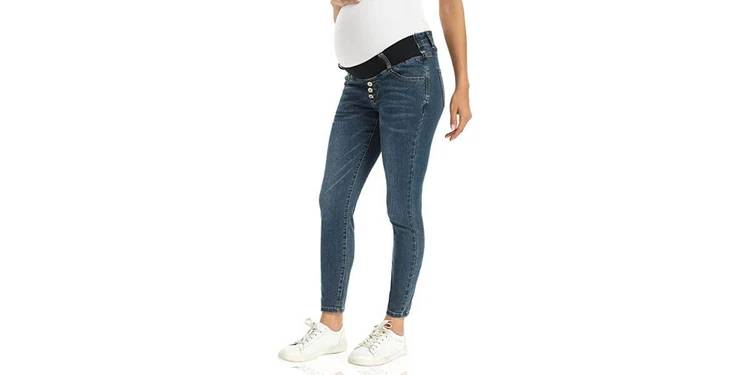 10. Jeans
Whether white, blue, or black, a couple of maternity jeans or trousers will not let you down.
And they're easy to dress up with a slick blouse, statement earrings, and a blazer.
These Foucome Skinny Stretch Jeggings are super cool and available in tons of shades.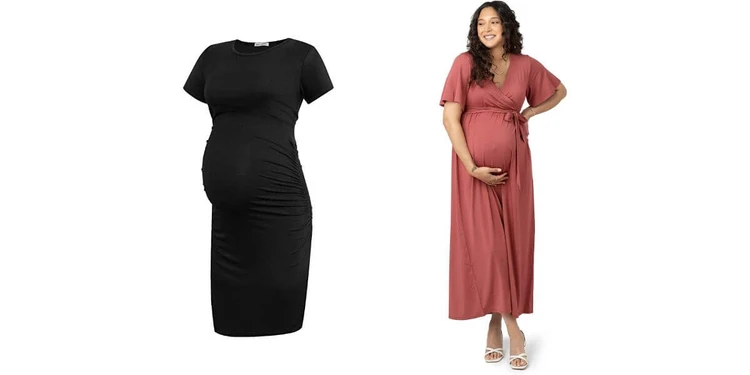 11. Light cotton dresses
These are the true heroines of the heavily pregnant.
Short, midi, or maxi.
Sleeveless, ¾ or full, nothing lets in a breeze quite so pleasingly as a dress.
Wear as is, or with the addition of a simple belt.
And chances are it's one of the things you can still wear once your baby's been born.
There are so many silhouettes to choose from.
There's slinky and bump hugging, like this Smallshow Short Sleeves T-Shirt dress.
Then there's A-line, ruched, or empire line.
And, of course, here's where your caftan or muumuu gets to shine!
The options really are endless.
This gorgeous terracotta Kindred Bravely Maternity Maxi Wrap Dress is our fav!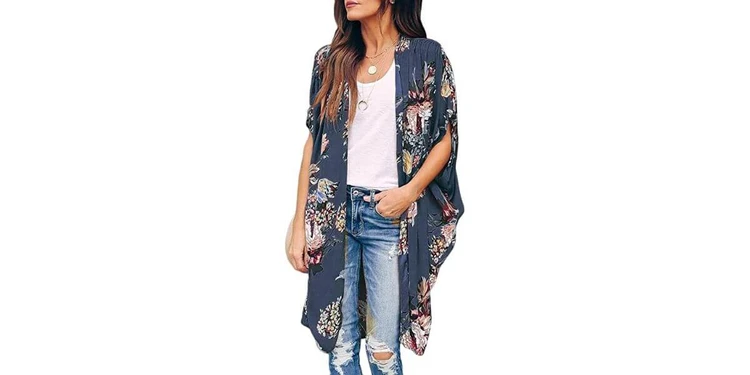 12. Maternity cover-ups, oversized shrugs, and lightweight jackets
Often called kimonos, the maternity cover-up is a great addition to any wardrobe.
A gorgeous way to add interest to your basics like tanks and jeans, automatically raising the bar and making for dressier options.
They come in an array of prints and colors, so you're sure to find one that speaks to you.
We love this Ivay option — well-priced and versatile.
And it's something else that will have a life beyond your pregnancy!
So no judgment for investing in more than one 😉.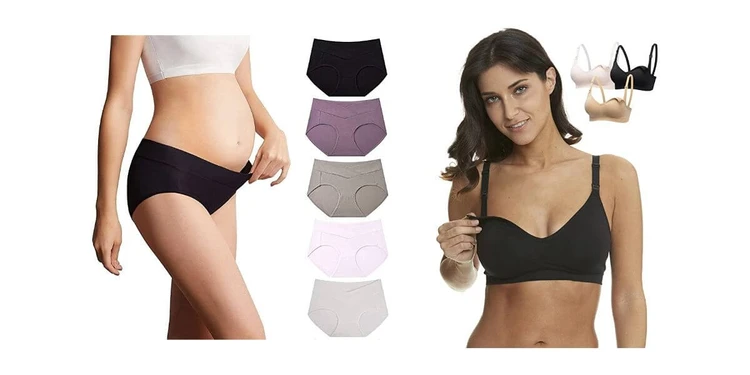 13. Cotton underwear
Need we say more?
OK, we will!
Most importantly, you need to be comfortable.
Look for items that are soft and stretchy, with panties either fitting below or above your bump.
This multi-pack from Mama Cotton is perfect.
Cotton is best for breathability.
And light colored underwear will help you spot any unusual discharge.
When it comes to bras, a soft, seamless cup is ideal.
Wider straps for added comfort.
These bestsellers from Hofish are our pick.
Be sure to get measured regularly throughout your pregnancy as you may go up a few bra sizes.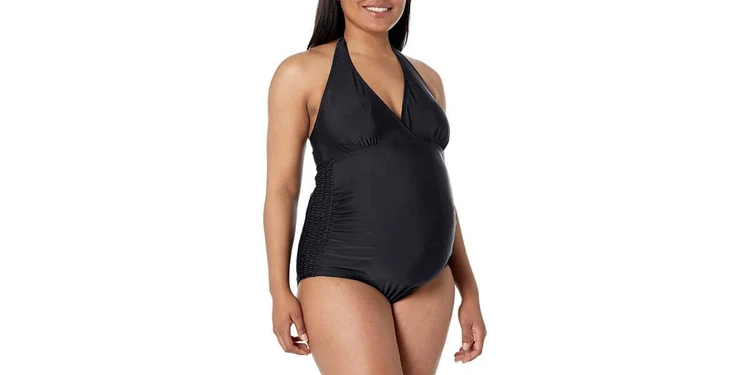 14. Maternity swimsuit
Don't let your growing bump keep you out of the pool this summer.
Swimming is [a great way to cool off](https://www.peanut-app.io/blog/swimming-while-pregnant.
And the pool is also an excellent place to get low-impact exercise during pregnancy.
There are no rules about going into a one-piece for pregnancy except for what makes you feel comfortable.
One practical consideration is that you may find a bikini easier just because of how often you may need to head to the bathroom.
Look for a supportive cup on the top with adjustable straps that look after your growing bosom.
Luckily, there are a plethora of styles to choose from.
From bright one-pieces with ruching across the belly to accommodate your bump, to two pieces with boy short or skort (short/skirt) bottoms, you're sure to find something to (um) suit you.
15. Matching wrap
For lounging around the pool, look for a matching wrap, robe, or cover-up to go with your swimsuit.
If your suit is plain black, opt for a brightly colored one for fun or — our favorite — one in animal print like this one from Love2Mi.
If you've got a solid-colored suit, you may want a printed wrap that picks up your suit color somewhere in the design.
16. Hats and shades
Sometimes it can be hard to feel glamorous during pregnancy, especially if things no longer fit the way they used to.
But you know what'll always fit and instantly makes you look like chic?
A sun hat and shades.
We love this Furtalk hat which rolls up!
And channel your inner Jackie O with these Ray-Bans.
Style on tap!
You'll be infinitely cooler, in more ways than one, and be able to take good care of your skin at the same time.
The most important thing to consider when shopping for maternity summer clothes is comfort.
Fashion-smashion.
But we're also not kidding about those shades. 😎