Looking for the perfect name for your new arrival? We've got you covered. Check out our list of Swahili baby boy names.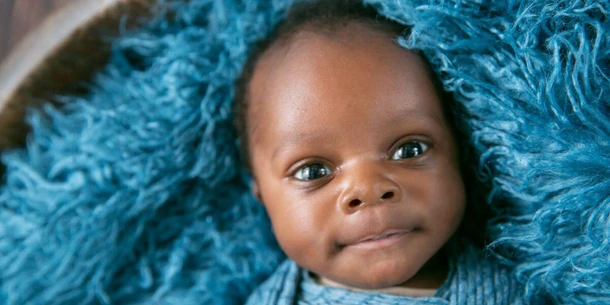 Swahili boy names stem from a rich range of influences that make up the language's lively origins.
Also called Kiswahili, Swahili is one of the ten most widely spoken languages in the world, and is growing in popularity.
(Fun fact? The United Nations has designated 7th July as World Kiswahili Language Day.)
It's widely spoken in multiple East African countries, including Kenya, Tanzania, Uganda, and the Democratic Republic of the Congo.
In this article: 📝

Choosing Swahili names for boys

Swahili boy names and meanings
Choosing Swahili names for boys
Swahili male names spring from a multitude of different cultures.
As such, they draw on a wide range of inspiration.
Some have roots in the indigenous culture of the region they sprout from.
Others reflect the Arabic influences of the language.
And some even add a contemporary pop culture feel.
Many names on our list speak of power in various forms — from the might of going into battle to the worth of cultivating inner strength through truth and optimism.
Some names honor the circumstances or time of a baby's birth, while others are meant to be a blessing bestowed on a new arrival.
Perhaps you're looking for something short and sweet with a noble meaning?
Ali might be the perfect fit.
Or maybe you're on the hunt for a name both beautiful and optimistic?
Tumaini, meaning "hope," might be what you're after.
Or you might be after a name that tells of the time surrounding your child's birth.
Chausiku, meaning "one who was born at night," may just be the right choice.
With so many strong, poetic options on the table, you're bound to find the name you're looking for.
Ready to get going? Let's explore.
Swahili boy names and meanings
Abdalla: This divine name means "servant of God." It's of Arabic origin and related to the popular name Abdullah, found in various parts of east and north Africa.

Abedi: With its Arabic ties, Abedi means "worshiper."

Ali: It's short. It's sweet. But it's certainly not without deep meaning. Ali has Arabic roots and means "noble, elevated, sublime."

Amani: Amani is the Swahili word for "peace" — a perfect blessing to bestow on your new arrival.

Ayubu: A Swahili version of the name Jacob, Ayubu means "supplanter."

Aziz: Traditionally from Arabic roots, this popular name means "all mighty and beloved." For those who practice Islam, it has very specific significance: it is one of the names of Allah.

Baba: Baba is the Swahili word for "father." So if you'd like to honor your baby's father or your own, this could be an excellent way to do so.

Bakari: We love this optimistic name. It means "hopeful" or "promising."

Barack: It's hard to detach this name from a certain Mr. Obama. If you'd like to honor the 44th president of the US, naming your baby after him is a great way to do so! The name is of Arabic origin and means "blessed."

Baraka: Or you could opt for this alternative. It, too, means "blessed." Plus, this is a gender-neutral name that can be used for any new arrival.

Bomani: This name is one for a "mighty warrior" and can also mean "home."

Chacha: This fun name has different possible meanings — "eagle," "strong man," or "rise to the occasion." Now that's a name that soars above the rest.

Daudi: This gorgeous name is a Swahili equivalent of David and means "beloved."

Haki: From its Swahili roots, Haki means "justice" or "truth." Interestingly, from Māori roots, this is a version of the name Jack or Jacqui, meaning "God is gracious."

Hami: This is the name of someone you want on your team. It means "defender," "protector," or "show favor."

Hasaan: From its Arabic roots, Hasani means "good-looking" or "handsome."

Hodari: This powerful name sounds like its meaning. It's a Swahili word for "strong."

Imani: This one has Arabic roots too and means "belief" or "faith."

Isaam: Also from Arabic origins, Isaam means "safeguard."

Jabali: No messing with this tough name. It means "strong as a rock."

Jelani: This one's a hardy option too. It means "strong and hard" or "prison."

Jirani: Sticking with 'J' names that have a pleasant 'i' ending, this congenial option means "neighbor" or "true friend."

Kabili: This virtue name means "honest" and "brave."

Kamili: From the Arabic Kamil, this perfect name means "flawless." What more can we say?

Karanja: This name means "he who inspires awe" and is a name from the Kikuyu people.

Kenyada: This name, of course, has Kenya fittingly nestled within it. It means "beautiful jewel."

Kito: This sweet name means "precious jewel."

Mbiyu: This little one will keep you on your toes. His name means "high alert."

Nafasi: This name has a built-in hope and lust for life. It means "opportunity."

Nuru: This lovely name simply means "light." (Psst. For other names that mean "light" from all over the globe, head here.)

Penda: This warmhearted name simply means "love." ❤️ (Looking for more names that mean "love"? We've got you covered.)

Sadiki: This lovely name means "faithful," "loyal" or "to agree."

Sahel: From its Arabic roots, Sahel means "beach" or "shore." This name could be a perfect way to pay homage to the beautiful beaches of East Africa.

Salimu: This delightful name means "to greet."

Sefu: This name also has Arabic roots and means "sword."

Simba: Of course, this name rose to worldwide fame when it was given to the protagonist of *The Lion King. Appropriately, it means "the strength of a lion" — now that's a name to have a lot of pride in.

Taha: This one has Arabic roots too and means "the purest."

Thimba: Here's one for the brave. It means "he who hunts lions."

Tumaini: This promising name simply means "hope."

Yahya: This name is the Swahili version of the name John and means "graced by God."

Yusufu: The Arabic version of Joseph, Yusufu means "God increases."

Zahur: From its Arabic roots, Zahur means "radiant" or "brilliant."
All the best with your choice!
And if you feel like exchanging ideas with other mamas-to-be, join us on Peanut.
We're here to support you through this journey.