Looking for sweet baby girl names for your little peanut? Tuck in!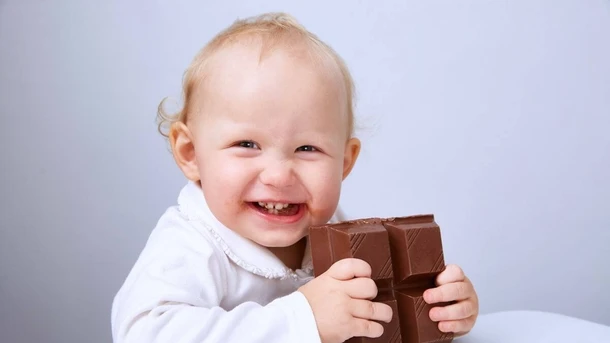 With so many names to choose from, it's often hard to know where to start. Picking from a list of names that are as sweet as your newborn-to-be (almost!) can make the choice a lot easier.
Whether you want something cute, elegant, or unusual, these sweet baby girl names offer a world of choice.
Ready? Here are over 200 sweet baby girl names to choose from.
In this article: 📝

What are the top 10 prettiest girl names?

What are the cutest girl names?

What girl name means sweet?

What is a unique name for a baby girl?
What are the top 10 prettiest girl names?
Linguists have been trying to find out for some time why some words just sound more beautiful to human ears.
It turns out we tend to like short vowel sounds, certain consonant sounds (like 'L' and 'S'), and a first syllable emphasis. We're also fans of words with three syllables.
It turns out we tend to like short vowel sounds, certain consonant sounds (like 'L' and 'S'), and words with a first syllable emphasis. We're also fans of words with three syllables.
And then, of course, the definition of "sweet girl's name" differs from mama to mama.
It's all a matter of personal taste. If a name has a special meaning to you, that can play a part in how pretty it sounds to your ears.
With all that in mind, let's start with names that are popular right now:
Olivia. The most popular baby girl name in 2020, Olivia means 'olive tree' in Latin. With its sweet sound, it's not hard to see why so many people find it adorable.

Ava. If you're looking for short and sweet baby girl names, this one tops our list. Ava is a Latin origin name and means 'bird'.

Sophia or Sofia. This beautiful name is of Greek origin and means 'wisdom.'

Amelia. This name means 'work,' and comes packed with so many sweet diminutives — Amy, Emma and Emily, to name a few.

Isabella. This lovely girl's name means 'God is my oath' and has really grown in popularity over the years. It can also be shortened to Bella, which means 'beautiful' in Italian. Does it get any prettier than that?!

Mia. Another short and sweet name, Mia means 'mine' in Italian. But that's not all. From its Egyptian origins, it means 'beloved'.

Harper. Originally used as a surname, this fairly new first name is already pretty popular. It simply means 'one who plays a harp' — and may be a particular hit with those who are fans of the famous novelist, Ms. Lee.

Luna. Short, sweet, and goddess-like? Check, check and check. Luna was the Roman moon goddess and it's no surprise this celestial name is topping name lists right now.

Ella. A simple, feminine name, Ella literally means 'she' or 'her' in Spanish.

Avery. This beautiful-sounding name also has a pretty cool meaning. It derives from old English and French and means 'ruler with elf-wisdom.' So if you're looking for something both adorable and magical, you may have found the one.
What are the cutest girl names?
Because what makes a name 'cute' is subjective, we've included a full menu of names so that every mama can find their perfect match.
Here are some of our favorite cute girl names:
Camila

Piper

Mila

Scarlett

Clara

Skylar or Sky

Madison

Blake

Eden

Parker

Ariana

Natalie

Lucy or Lucia

Willow

Leah

Daisy

Aubrey

Sara

Ada

River

Freya

Kayla

Zara

Anna or Ana

Paige

Hayden

Joyce

Adele

Jasmine

Estelle

Lara

Rosa or Rosy

Angelica

Briar

Amirah

Adeline

Erin

Holly

Jolene

Leona or Leonie

Alice

Kelsey

Aurelia

Colette

Dorothy, or Dot for short

Diana

Juliette

Opal

Francesca, or Frankie for short

Faye

Luisa

Audrey

Florence

Serena

Maya

Ruby

Delilah

Violet

Lily

Zoe

Isla or Ayla

Quinn

Iris

Riley

Molly

Morgan

Hope

Mabel

Charlotte, or Charlie or Lottie for short

Ruth

Bethany

Eleanor or Ellie

Imogen

Tabitha

Matilda, or Tilly for short

Alexi

Nora

Savannah

Sadie

Jade

Melody

Faith

Eloise

Amara

Georgia

Catalina

Elise

Bryn

Cora

Heidi

Lana

Joy

Daphne

Bianca

Astrid

Macey

Poppy

Nadine

Meadow

Aisha

Robin

Sierra

Layla

Clementine

Adriana

Cassandra

Marina

Sienna

Cassidy

Susie

Celine

Abby

Gwen

Talia

Cosette

Emmeline

Valerie

Paloma

Maisie

Addison or Addie

Corey

Belle

Emerald

Cece

Grace

Ivy

Josie

Lola

Pippa

Minnie

Penny

Kelly

Pia

Zadie

Tess

Lacey

Polly
What girl name means sweet?
We can't have a list of sweet baby girl names without including some that actually mean sweet.
Here are our picks from around the world:
Dulcie. This name comes from the Latin word, 'dulcis', which means — you guessed it — 'sweet.'

Honey. Because there's nothing really sweeter than Honey, is there?

Maple. A tribute to that deliciously sweet sap, this modern name has been gaining popularity in the last couple of decades.

Zusa. This name of Yiddish origin literally means 'sweet.'

Pamela or Pam. This Greek origin name derives from the words pan, meaning 'all,' and meli, meaning 'sweet' or 'honey.' Any baby with this name is a 100% sweetie.

Helwa. It means 'sweet' and also 'beautiful' in Arabic.

Amai. This super cute Japanese origin name also means 'sweet.'
What is a unique name for a baby girl?
There are plenty of adorable girl names that are a little more unusual.
If you're looking for something that's both sweet and unique, why not try one of these names?
Winter

Etta

Cleo

Mercy

Juniper

Remi

Magnolia

Wren

Bexley

Apple

Pixie

Hazel

Kinley

Aurora

Bertie

Oaklee

Fawn

Celia

Raine

Lyra

Noa

Foster

Yara

Hattie

Cadence

Nia

Zuri

Arlette

Opal

Birdie

Goldie

Tallulah

Odette

Bellarose

Rory

Jovie

Tova

Zephyr

Colby

Odelia

Coral

Ginger

Ember

Orchid

Farrah

Dora

Noel

Raven

True

Willoughby

Ausha

Myla

Bryar

Irie

Phoenix

Raya

Perla

Alma

Ariel

Summer

Astra

Fable

Rosabel

Ibby

Nola

Juno
So there you have it — over 200 sweet baby girl names. We hope you've found the perfect name for your perfect peanut.
And if you're still looking, how about one of these lists next?
161 Cool Baby Girl Names And Their Meanings
108 Celebrity Baby Names
138 Unisex Baby Names
183 Exquisitely Exotic Baby Girl Names
Top Girl Names: The Ultimate List
55 Pretty Flower Names for Girls And Their Meanings
The 1000 Most Popular Baby Girl Names
100+ Uncommon Baby Names & Their Meanings
90 Strong Baby Girl Names & Their Meanings
A Long List of Short Baby Girl Names