That moment when your toddler refuses to eat… again.
It's ok.
Even the most determined parents can struggle to find new and exciting ways to get their toddlers to eat healthy meals.
And the whole subject of kids' food comes with even more questions…
What meals can I make for my 1-year-old?
What can I feed my 18-month-old for dinner?
What to feed a picky 2-year-old?!
Mama, we know that dinner ideas for kids can be pretty taxing (it can be hard enough planning meals for yourself every day!).
Luckily, there are plenty of tricks – and not so tricky ways – to get your toddler interested in eating.
If you find yourself in this situation more often than not, here are some easy, healthy, and delicious toddler meal ideas that will make getting them to eat happily become second nature again…
Mix 'em up and switch 'em around if you want to.
Or don't.
You've got enough on your plate – and no one's judging.
In this article: 📝

Tips for preparing meals for toddlers

What meals can I give my 2-year-old?

What are good breakfast foods for kids?

What are lunch recipes for toddlers?

What should I feed a toddler for dinner?

What should I not feed my toddler?

What are toddlers' favorite foods?
Tips for preparing meals for toddlers
First up, if you're preparing toddler food ideas from scratch, here are a couple of things you should bear in mind:
How much should a toddler eat?
As a rough measure, we tend to say that a 13-month-old toddler could get through 1,200 calories per day on average.
Of course, you won't know this exactly, but a ballpark figure can be useful.
That, by the way, is across 3 meals and 2 snacks daily.
Although, this can change from day to day.
What nutrient is important for toddlers?
Just like us adults, toddlers need a pretty balanced diet.
So, you'll need to get some proteins in there, some carbs, a good amount of fats, and some nice vitamins, minerals, and nutrients from fruit and veggies.
It's probably best to follow medical advice and avoid adding too much extra salt or sugar to your creations.
To better help safeguard your child's intake of essential nutrients, turn to our friends at Vitabiotics.
The WellBaby Vitamin D Drops have been carefully formulated by their team of nutrition experts, vitamin D helps to support the normal growth and development of bones in children.
Give toddlers the spice of life
That's variety, not chili pepper.
Although it means a bit more creativity from you, a broad range of different foods will help baby fill their mouth with all the flavors in the world.
More than that, as Registered Dietitian Nutritionist (RDN) and Mama Knows Nutrition founder Kacie Barnes points out, "it will help cover their bases of micronutrients to make sure they're getting everything they need.
Keep things simple
You might be back at work by now.
And even if you're not, you might be a bit exhausted by dinnertime anyway.
The chief maker of messes doesn't need a Michelin-star service.
Keeping things simple will not only help keep meals for toddlers relaxed, those thrown-together quick dinner ideas can often be just as nutritious as ones that took hours.
Give yourself a break mama, you're doing a lot.
Should toddlers eat with their hands or cutlery?
Kids develop differently.
And while some may be perfectly neat and tidy with their cute little spoon, others might dive in headfirst.
Prepare for things to get messy, either way.
How do you feed a stubborn toddler?
Sometimes, your toddler will like what you serve them up, and sometimes not.
Sometimes they'll gobble it down and sometimes they won't want anything to do with it.
That's all part of learning.
You'll just need to be a little bit flexible (and patient with yourself while trying).
And if you need support, we've a nutritionist-approved guide for picky eater written by a parent who's been there. 💛
What meals can I give my 2-year-old?
Now then, it's crunch time.
Or maybe squishy mushy time.
Here are some ideas for toddler meals for breakfast, lunch, and dinner. 🍲
Be as creative as you'd like or have the energy for (let's be real).
But one good thing to remember for your piece of mind: just as you might be crazy about one meal and repulsed by another, a toddler can be, too.
So, if not every recipe is a success, that's normal and not a reflection on you or baby.
And if they don't like a new food the first time, that's normal too.
There's no saying they won't like it if you try again.
The US CDC suggests waiting a few days before giving it another go, though.
So here are some expert-approved toddler meal ideas for you to play with:
What are good breakfast foods for kids?
It's the most important meal of the day!
How many times have you heard that?
Well, a substantial breakfast sets up your growing peanut for a hard day's play, too. 💪
Luckily, toddlers can eat something pretty similar to you.
Here are some ideas:
1. Mashed banana with toast and peanut butter
Peanut butter is a good source of protein, Vitamin E, and Selenium, plus it has lots of unsaturated fats which have many benefits in the body, including cholesterol control!
To make sure your toddler gets all that good stuff, Barnes recommends choosing a peanut butter (or other nut butters like cashew or almond) that have just nuts in the ingredients.
It's also worth trying to avoid the classic PB&J combo as this is usually sugar-filled jelly.
But if you want to introduce your kid to the beloved snack early, Barnes recommends a brand that doesn't add sugar.
Don't worry, you'll find lots of options out there to choose from.
2. Toast fingers with scrambled egg
Scrambled eggs are a great option for toddlers as they are easily digestible and very tasty.
They also make great finger foods too.
Just make sure the egg is thoroughly cooked and unsalted and add some fruit for extra nutrition.
Scrambled eggs are a very healthy recipe for toddlers as they contain a lot of protein, calcium, and iron.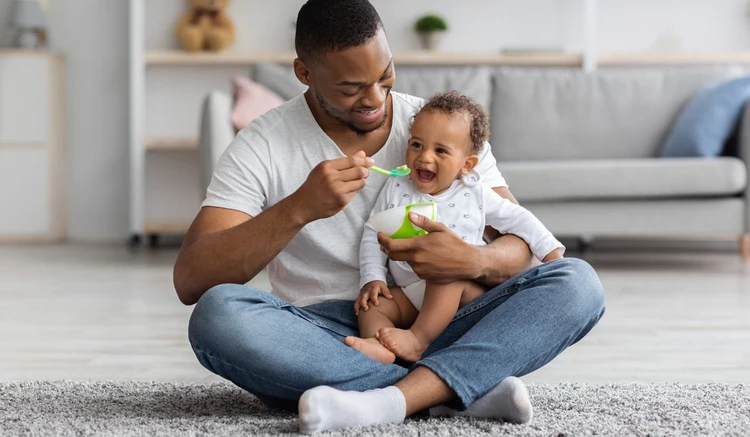 3. Porridge with milk and mashed fruit
This is a great way to introduce healthy foods to your little one.
You can mash up any fruit your toddler likes, such as bananas, strawberries, or pears, to make this even easier.
Plus, porridge is a great source of long-lasting energy and it's easy to digest, even when your toddler is feeling sick.
And you can use a nutritionally-rich milk, like Arla Big Milk, so your little gourmand gets even more much-needed nutrients in their meal, to help their growing body.
4. Low-sugar cereal with milk and fruit.
Fruit is a great option and is full of vitamins, minerals, and fiber.
And low-sugar cereals can be fortified with iron and packed full of even more fiber.
Just try to steer clear of granola and other cereals with high sugar content.
And once again, a whole milk with extra nutrients, like Arla Big Milk, so they get the nutrition from cow's milk plus extra Vitamin D, A, and Iron.
5. Yogurt with sliced fruit
Easy to prepare, easy to eat.
Opt for yogurt with no added sugar (unfortunately, some yogurts that are "made for kids" can have a high sugar content), and add their favorite fruit for added flavor.
"I usually opt for plain Greek yogurt," Barnes says, "and if that's too tart for your child you can always mash up fruit and make a homemade strawberry (or any fruit) yogurt."
Eh, yum!
"Also, if your child is over 1 year old, you can add a little bit of honey to sweeten it yourself".
Plus Greek yogurt can be a great source of protein.
But it's best to avoid the low-fat options and go for the normal fat percentage instead because your kiddo need lots of fat for their growing brains.
Final tip: you can throw some cereal in there, too, for fiber.
Breakfast can be a pretty easy meal to manage (even if it's first thing!).
Just try to include some carbs, protein, and fat so you're hitting all those macronutrients in one meal.
Oh, and keep those added sugars and salts out of there.
What are lunch recipes for toddlers?
Maybe recipes for toddlers is a little too formal.
The reality might be more like throwing stuff on a plate.
No matter what way you slice, dice, or toss it, the best toddler lunch ideas should be a mix 'n' match of proteins, carbs, and fats.
"It's also a great time to add in a veggie as a side dish," Barnes says, "or with a dip as part of a lunch".
And depending on your little one's age and eating habits – and on yours – there's no harm in doing some sharing.
You might want to with some of toddler meal ideas:
6. Baked beans on toast
It's a British staple, but we think it should be embraced around the world!
Your toddler gets fiber from the toast (wholemeal is great here) and protein from the beans.
The texture of beans is similar to mashed banana or sweet potato, and the toast is easy for them to gum and mouth, particularly if they're new to weaning.
The iron and zinc in beans will help to boost your toddler's immune system and keep them full of energy.
Go for the low-sugar, low-salt options as 'normal' baked beans can be pretty high in sugar and salt.
7. Scrambled eggs with toast
Yes, for lunch too!
You don't have to use toast, if your little one is being picky ‒ any soft bread, like pita, can work well, too.
Scrambled eggs are a great option for a toddler's first solid food because they are soft and easy to eat, as well as packed with protein and nutrients.
You can also mix in some soft veggies like spinach, broccoli, or carrots to give them extra nutrients or serve it up with some tasty veggie sticks.
8. Veggie sticks and dips
Veggies are good sources of fiber and other nutrients that are important for growing toddlers.
They can also enjoy dipping veggies in healthy dips like hummus, yogurt, and full-fat cheese ‒ it's great for working on their pincer grip and hand-eye coordination.
Just make sure to avoid sugary or high-sugar content dips and yogurts.
9. Pasta with sauce and cheese on top
And we mean any sauce takes your fancy (as long as it's low sugar and salt).
A simple pasta dish is easy to make and healthy for your toddler.
It will give them lots of energy and keep them full for a long time, thanks to the high fiber content of the pasta.
This is a great recipe for picky eaters, as it has a mild flavor and lots of pasta shapes your child might like, like shells or elbow macaroni.
"There are also some great alternative pastas out there", says Barnes, "with noodles made from chickpeas or lentils that are even higer in protein and fiber."
10. Sandwiches
Kids love to get messy, so why not encourage it with a sandwich they'll love?
Make a sandwich with a few slices of cheese, a few slices of ham or an egg, a few slices of tomato, and some lettuce.
Your toddler will love the food falling out of their sandwich, making it the perfect meal for messy eaters.
If your toddler is fussy, try to make the sandwich look more appealing by cutting it into shapes with cookie cutters.
As the brains behind 'Simple Steps to Picky Wins' observes, "cutting shapes in sandwiches or vegetables (like bell peppers and cucumbers) can be a fun way to get kids interested in new foods.
Alternatively, you can use a store-bought sandwich cutter to make the shapes even more fun and appealing
Keep that bread soft though.
11. Yogurt and granola with fruit
Struggling with lunch meal ideas for your toddler?
Breakfasts make great lunches and a nutritious kids meal!
As long as you keep that balanced combination of carbs, protein, and fat.
12. Leftovers
What did you have last night for dinner?
Don't be afraid of using leftovers.
Not every toddler meal has to be a recipe, or indeed a masterpiece.
Any shortcuts are totally fair game.
What should I feed a toddler for dinner?
Just like with lunch and breakfast, dinner can be easy as pie (or curry or stew or pasta).
And, if you're coming home from work, or if you've spent your day exhausting your toddler play ideas, you'll appreciate something easy.
So, what's on the menu?
Try some of these fun toddler meals:
13. Shepherd's pie
A bit longer to prepare, but why not get your little chef involved with the cooking?
Pop it in the oven, serve with some greens, and you've got a delicious, nutritious toddler meal!
The best part?
You can eat it with them, and it's just as good in vegetarian-friendly form.
14. Canned fish with mashed potatoes and veg
It can be a good idea to introduce the flavor of fish to your little one relatively early on, so they can get used to it.
After all, fish like canned salmon or sardines have amazing nutrients, like protein, Omega-3 fats, and tons micronutrients that can be hard to get in the diet.
Not to mention giving them energy and help with their cognitive development.
Pair with mashed potatoes and their favorite veg, and you've got a balanced toddler dinner!
15. Chicken casserole with rice or couscous
Chicken can be very beneficial for your toddler since it is a good source of protein and healthy fats.
It also has plenty of minerals, such as selenium, which plays an important role in many of your child's metabolic functions.
Plus, it's a healthy dinner you can both enjoy together!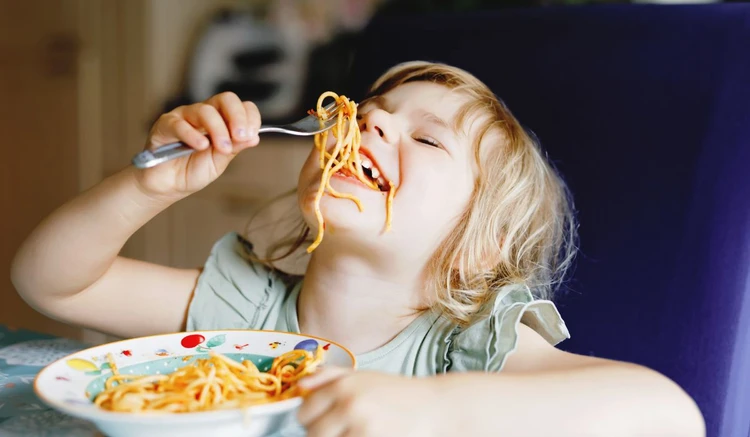 16. Pasta with meat and tomato sauce
"Pasta sauce is a good way to introduce some vegetables into a dish they already like," observes Barnes.
"Take their favorite sauce and add sauteed spinach, mushrooms, bell pepper, onion – anything that you have on hand!"
Plus, if you know your little one likes a particular pasta combo, you could always make it in a batch, freeze it, and re-heat if you're short on time.
Could be a handy toddler lunch too.
The kids' food that keeps on giving!
17. Chickpea and cauliflower curry
Chickpeas are a great vegetarian source of fiber and protein.
You can serve with rice or soft bread for some more carbs.
Easy to make and veggie-friendly, the only thing to bear in mind is not to make it too spicy.
18. Beef bowl
Beef is incredibly nutritious, providing iron and protein.
Plus, most toddlers love the taste ‒ and the squishy texture ‒ so it makes a great meal for fussy eaters and toddlers on the go.
To make it even more toddler-friendly, cut up a few carrot sticks and a piece of broccoli, pop them on the skewer and they'll be happily chewing away while you plan your next menu choice.
You can make a big batch of minced beef in advance and store it in the freezer for times when you need an easy nutritious meal for your toddler.
Stir-fry the beef with some soy sauce and some veggies, and serve over rice or noodles.
Barnes recommends opting for low-sodium soy sauce and using it sparingly, as it can be very high in sodium.
Alternatively, make a slow cooker beef stew and add rice or noodles for a complete meal.
19. Tuna noodle casserole
Tuna noodle casserole is a classic comfort food that's also packed full of protein and Omega-3, making it a great choice for toddlers.
If you're looking to get your toddler to eat more vegetables, adding a few carrots and some peas will increase the amount of nutrients in the meal while also making it more appealing to little ones.
You can easily make a tuna noodle casserole in advance and store it in the freezer for a quick and easy meal when needed.
Cook the noodles and vegetables, add the tuna, and pour into a casserole dish.
Sprinkle with a little cheese, and you're good to go.
Or, cook the noodles and vegetables in advance.
Add the tuna and pour into an oven-safe dish, then top with cheese and bake for a few minutes in the oven until the cheese has melted.
Delicious!
20. Chicken and veggie bowl
Filled with healthy ingredients, this toddler meal will keep your kiddo full for hours.
Cook chicken in advance and store it in the freezer for those times when you need to make a quick meal.
You can also make a big batch of rice or quinoa and add vegetables such as broccoli and carrots.
Alternatively, buy a pack of mixed vegetables, stir-fry them and add them to the rice.
"Frozen vegetables are great to keep on hand so that you can easily sautee them up and add them to dish for a little added nutrition," observes Barnes.
To make a chicken and veggie bowl, place the cooked quinoa or rice in a bowl, add the chicken and vegetables, and top with a dollop of plain Greek yogurt – it's a great sub for sour cream!
What should I not feed my toddler?
While many people think that toddlers are a perfect eating machine, there are some foods that you shouldn't give your toddler.
According to the UK NHS, these foods can be dangerous for your toddler's health and development.
Added salt: Some foods already contain salt (or sodium, as it's called on nutrition labels), but added salt can cause dehydration, so it's worth avoiding. "This is especially true for babies below 12 months" says Barnes. "The sodium guidelines liberalize a little bit at 1 year, but it is still wise not to over salt, and to opt for other flavorful ways of seasoning when possible."

Added sugar: Just like salt, many foods already contain natural sugars, which are generally fine for your toddler to eat, but when it comes to foods with added sugar, it's worth keeping them out of your shopping cart. Barnes recommends avoiding for children below two entirely.

Whole nuts: These can be a choking hazard, particularly if your little one is still getting used to different textures, so it's worth cutting or grinding them up before handing them over to your toddler. The same goes for berries and grapes.

Mold-ripened cheeses: While most cheeses are fine for toddlers (tasty, even), moldy cheeses, like blue cheese, Stilton, brie, camembert, goats-milk cheese, or Roquefort, can be dangerous, as they have a chance of harboring the bacteria listeria.

Raw or undercooked eggs: If not cooked enough, they can also contain dangerous bacteria.

Raw shellfish: Even if your little one is a certified gourmand, it's best to avoid raw shellfish in case of food poisoning.

Fish that are high in mercury: Fish such as swordfish or marlin can contain high levels of mercury ‒ just as you shouldn't eat these while pregnant, your toddler shouldn't eat these just yet, either.
What are toddlers' favorite foods?
Wondering what your toddler's favorite kids' food is?
Well, it really depends on their age, their taste preference, and what they've already tried.
Generally, toddlers love food that tastes good and looks appealing to them.
You can try giving your child some nutritious food like fruits or vegetables mixed with their meals to get them started early on healthy eating.
Ultimately, cooking for your toddler can be fun and super easy.
From sandwiches to casseroles, there are plenty of easy meals to make that your toddler will love. 😍
And as your child grows and develops, so will their tastes and preferences.
Toddlers have short attention spans, so make sure to keep the portions small and offer them a variety of different foods to ensure they get the most nutrients and energy from their meals. ⚡️
And once you have some simple toddler meal ideas that you know your picky-eater likes, there's no stopping you!
Feel free to swap some tried-and-true recipes with your fellow mamas on Peanut!