Once upon a time, baby meal times didn't require much thought. But when your little-one's no longer so little? Yep, the question of toddler meal ideas raises its head. Decisions, decisions, decisions.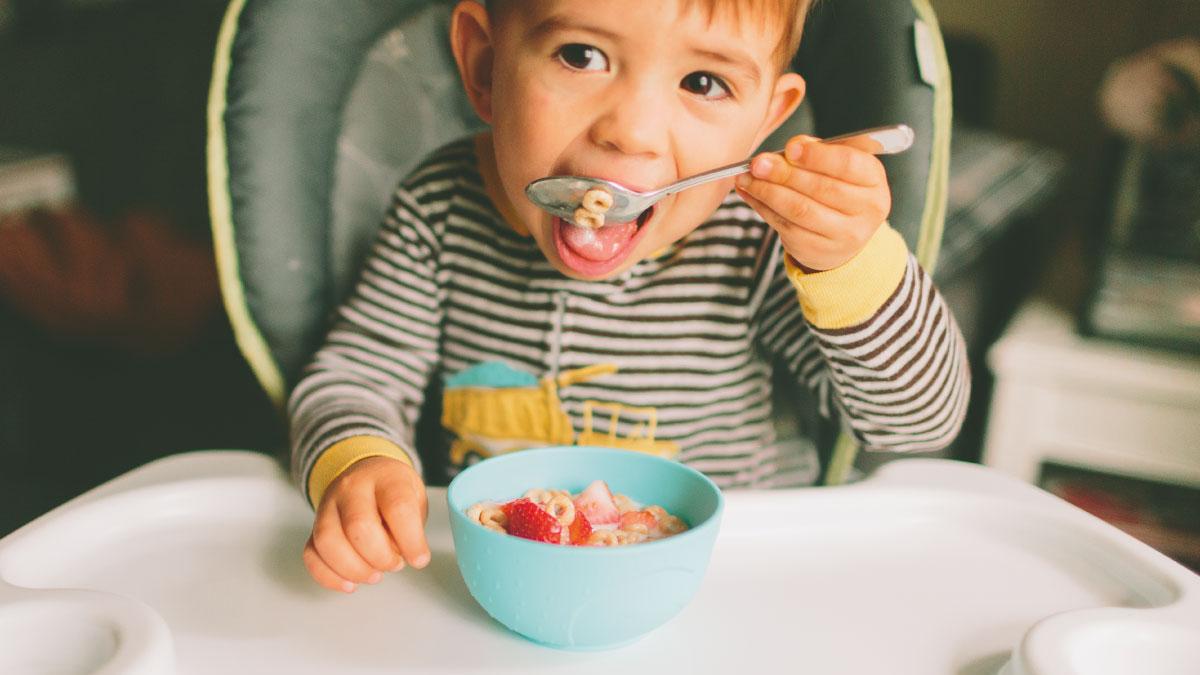 What meals can I make for my 1 year old? What can I feed my 18 month old for dinner?? What to feed a picky 2 year old??? Mama, we know that dinner ideas for kids can be pretty taxing (it can be hard enough planning meals for yourself every day!). But we're here to help.
Here, we've got some easy ideas for toddler meals. Mix 'em up and switch 'em around if you want to. Or don't. You've got enough on your plate – and no-one's judging.
Things to consider when preparing meals for toddlers
First up, if you're preparing toddler food ideas from scratch, here are a couple of things you should bear in mind.
How much grub? As a rough measure, we tend to say that a 13 month old baby could get through 1,200 calories per day on average. Of course, you won't know this exactly, but a ballpark figure can be useful. That, by the way, is across 3 meals and 2 snacks daily. Although, this can change from day to day.
Balance those nutrients. Just like us adults, baby will be wanting a pretty balanced diet. So, you'll need to get some proteins in there, some carbs, and some nice vitamins, minerals, and nutrients from fruit and veggies. It's probably best to follow medical advice and avoid adding too much extra salt or sugar to your creations.
The spice of life. That's variety, not chili pepper. Although it means a bit more creativity from you, a broad range of lots of different foods will help baby fill their mouth with all the flavors in the world.
Keep things simple. You might be back at work by now. And even if you're not, you might be a bit exhausted by dinnertime anyway. The chief maker of messes doesn't need a Michelin-star service. So, keeping things simple will help keep meals for toddlers chill.
Hands or cutlery? Kids develop differently. And while some may be perfectly neat and tidy with their cute little spoon, others might dive in headfirst. Be prepared.
Play it by ear. Sometimes, your toddler will like what you serve them up, and sometimes no. Sometimes they'll gobble it down and sometimes they won't want anything to do with it. That's all part of learning. You'll just need to be a little bit flexible.
17 ideas for meals for toddlers
Now then, it's crunch time. Or maybe squishy mushy time. Here are some ideas for food for toddlers – for breakfast, lunch, and dinner.
Obviously, be as creative as you'd like (or can be bothered). But one thing is good to bear in mind: just as you might be crazy about one meal and repulsed by another, a toddler can be, too. So, if not every recipe is a success, that's normal.
By the way, if they don't like a new food the first time, that's normal too. And there's no saying they won't like it if you try again. The US CDC suggests waiting a few days before giving it another go, though.
So here are some toddler meal ideas for you to play with.
Breakfast food for toddlers
It's the most important meal of the day! How many times have you heard that? Well, a substantial breakfast sets up baby for a hard day's play, too.
Luckily, toddlers can eat something pretty similar to you. Here are some ideas:
Mashed banana with toast and peanut butter. Keep the peanut butter smooth and sugar free.
Toast fingers with scrambled egg (unsalted!) and some fruit.
Porridge with milk and mashed fruit.
Low-sugar cereal with milk and fruit.
Yogurt with sliced fruit. You can throw some cereal in there, too.
Breakfast can be a pretty easy meal to manage (even if it's first thing!). Just try to include some carbs, a protein, and some fruit. And keep those added sugars and salts out of there.
Lunch recipes for toddlers
Maybe recipes for toddlers is a little too formal. The reality might be more just chucking some stuff on a plate.
Lunch should be a mix 'n' match of proteins, carbs, and veggies, in whatever form that might be. And depending on your little-one's age and eating habits – and on yours – there's no harm in doing some sharing. Try some of the following:
Baked beans on toast (low-sugar, low-salt).
Scrambled eggs with toast (or a soft bread like pita). Serve it up with some tasty veggie sticks.
Veggie sticks and dips: houmous, yogurt, and full-fat cheese.
Pasta with sauce and cheese on top. Whatever sauce takes your fancy (but remember, low sugar and salt).
Sandwiches with cucumber, bell peppers, and cheese or ham. Keep that bread soft though.
Some yogurt and granola, with fruit. (Breakfasts, by the way, make great lunches.)
What did you have last night for dinner? Don't be afraid of using leftovers. Not every toddler meal has to be a recipe, or indeed a masterpiece. Any shortcuts are totally fair game.
Toddler dinner ideas
What should I feed my toddler for dinner? Just like with lunch and breakfast, dinner can be easy as pie (or curry or stew or pasta). And, if you're coming home from work, or if you've spent your day exhausting your toddler play ideas, you'll appreciate something easy.
So, what's on the menu? Try some of these toddler dinner ideas:
Shepherd's pie with some greens (the bonus? You can eat it with them, and it's just as good vegetarian).
Rice and peas.
Canned fish (salmon or sardines) with mashed potatoes and veg.
Chicken casserole with rice or couscous.
Pasta with meat and tomato sauce.
Chickpea and cauliflower curry with rice or soft bread.
Ultimately, cooking for your toddler can be fun and super easy. And once you have some simple toddler meal ideas that you know your picky-eater likes, there's no stopping you!
Read next: Toddler Activities: 50 Fun Ideas