Nature names are seeing a rise in popularity. Curious about what options there are for tree baby names? We've got you covered. Read on.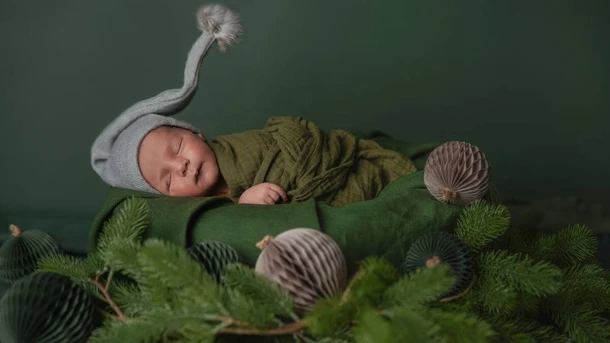 Are you a nature lover? Are you happiest out hiking in the forest or reading under a big tree in the garden? Or are you a big kid at heart who believes you're never too old to climb a tree?
A name meaning tree might be just the thing for your incoming squish!
Tree names are the perfect pick if you're looking for a baby name that evokes attributes like strength, resilience, and rootedness.
Ready to walk through the gorgeous forest of tree baby names? Let's go.
In this article 📝

What are popular tree names?

Tree names for boys

Tree names for girls

Gender-neutral tree names
What are popular tree names?
Tree baby names are really nothing new. Chances are you've been hearing them for years but just never twigged (😉).
Here are ten of the most familiar tree names for kids.
Ash. This gender-neutral name could be a shortening of the name Ashton or Ashley, but stands well on its own. It has two great meanings. It represents the Ash tree, but it also means "happy." How lovely!

Chloe. This name is of Greek origin and means "young green shoot." With its other meanings of "blooming" and "fertility," it's both hopeful and light at the same time.

Cullen. One for the Twilight fans! Cullen has many meanings with English, Irish, and Scottish heritage. Anglicized from one of its Gaelic forms, it means "holly tree."

Elon. This is a name of Hebrew origin. It means "oak tree," which has long been associated with wisdom, nobility, and honor. Traits we'd all hope to instill in our kids.

Ewan. This popular name has its roots in many cultures. With Scottish, Irish, Welsh, Hebrew and Greek connections, it means "born of the yew tree."

Hazel. This soft and gentle name is of English origin and means the "hazelnut tree."

Holly. This old English name means "plant with red berries" and refers to the holly tree. It's often used for babies born at Christmas time but is just as gorgeous all year round.

Oliver. This boy's name means "olive" or "olive tree" and has French and Latin origins. Made famous by the boy who asked for more, it's great for musical theater lovers.

Olivia. Calling all olive lovers! Olivia comes from the Latin for olive tree. Very elegant and charming.

Sylvia. This Latin name means forest but also "spirit of the wood." So if fairies and sprites are your things, this would be a great choice. Magic! 🪄
But wait, there's more!
You didn't think we'd leave you with just those ten, did you? Here come a whole bunch!
Tree names for boys
Acer. This lovely Latin name means "maple."

Ackley. This English name means "oak meadow."

Adair. With its Irish roots, Adair means "oak grove."

Aranay. This beautiful Hindu name means "wild forest."

Arvid. A name with Scandinavian roots, Arvid means "eagle tree."

Bruce. A name with a strong Scottish history. Bruce means "willow woods."

Daire. An Irish name also spelled Dara, Daire means "oak tree."

Darragh. Another Irish spelling of the name Daire, Darragh means "oak tree."

Forrest. This name needs little introduction and has long been a popular boy's name.

Garrick. A striking name with French origins, Garrick means "oak tree grove."

Havac. This Czech name means "from the ancient oak tree."

Hawthorn. An English name refers to a type of shrub.

Kaede. This strong Japanese name also means "maple."

Lapu. Meaning "cedar bark," this name has Hopi origins.

Liko. This Hawaiian name means "leaf bud."

Naim. This serene name with Scottish origins means "river with alder trees."
And if you're wondering, What are tree names for girls? Wonder no longer!
115 women are talking about 'Armenian baby names' on Peanut. Download the app to join the conversation.
Tree names for girls
Alani. This lovely Hawaiian name means "orange tree" and is ever so pretty.

Ayla. This Hebrew name means "oak tree" and all the strength, wisdom, and honor that comes with it.

Daphne. This Greek name comes from the laurel tree.

Elowen. This name has seen many different spellings. It is originally Cornish and means "elm."

Evora. This Portuguese name means "yew tree."

Figueroa. A stunning Spanish name, Figueroa means "fig tree."

Illana. A lovely name meaning "oak tree," and is of Hebrew origin.

Ivara. A striking German name, Ivara means "yew tree."

Ivy. This classic English name needs no explanation.

Juniper. This Latin name refers to the juniper tree that produces the berries used to flavor gin. It also means "young."

Keziah. This charming Greek name refers to the cassia tree, which produces a spice similar to cinnamon.

Kiri. This short and sweet Maori name means "tree bark."

Linea. Meaning "twinflower" or "lime tree," this is a Swedish name.

Sakura. This beautiful Japanese name means "cherry blossom."

Tamar/Tamara. A name of Hebrew origin, Tamara means "date palm tree."

Willow. This classic English name is stylish and graceful — much like the tree it comes from.

Yesenia. A strong Spanish name, Yesenia means "floral."

Yvonne. A classy name that is French in origin, Yvonne means "yew wood."
Gender-neutral tree names
Ellery. This English name means "lives by the Alders trees."

Holland. This Dutch place name means "wooded land."

Lennox. A gorgeous Scottish name meaning "many elm trees."

Linden. This name refers to a strong tree that can grow for centuries. A great legacy name.

Marlowe. Spelled with or without the "e", this an old English name meaning "driftwood'.'

Rowan. Another name with various spellings (such as Roan). It's Scottish and Irish in origin and refers to a tree with little red berries.
`spacer
Amongst all the oaks, yews, and maples, we found ourselves wondering, What is the weirdest name of a tree?
Our search came up with the so-called Dragon's Blood Tree.
If you're a Game of Thrones fan, maybe there's something in that for you 😉.
Because at the end of the day, when it comes to names, you have to go with what feels right to you.
Any tree or nature name that resonates with you, your partner, or your way of life is fair game.
The name Apple shocked people back in 2004 but has now made its way onto many birth certificates.
Like the ecosystems trees are part of, you may want to broaden your name search to others in the natural world.
So if you're wondering what is a nature name for a girl? or how do I find an earthy name for a boy?, have a read here.
Peanut also has you covered if you want to expand your options and check out more gender-neutral or even nonbinary names.
Here's to finding the perfect name — whichever one that is for you and your babe.
🌱 More baby name guides:
83 Cottagecore Baby Names
64 Baby Names That Mean Ice
67 Baby Names That Mean Ocean
47 Baby Names that Mean Moon
80 Radiant Baby Names That Mean Rainbow
93 Baby Names That Mean Life
101 Brilliant Baby Names That Mean Light
68 Dreamy Baby Names That Mean Snow
267 Heavenly Baby Names That Mean Star
70 Enchanting Baby Names That Mean Night
79 Refreshing Baby Names That Mean Rain
234 Cowboy Baby Names for the Wild at Heart