Whether you're trying to conceive naturally or with a helping hand, there will be a time where you have to face the infamously difficult two-week wait.
While it can be exciting, it can also be a time fraught with worry and fear.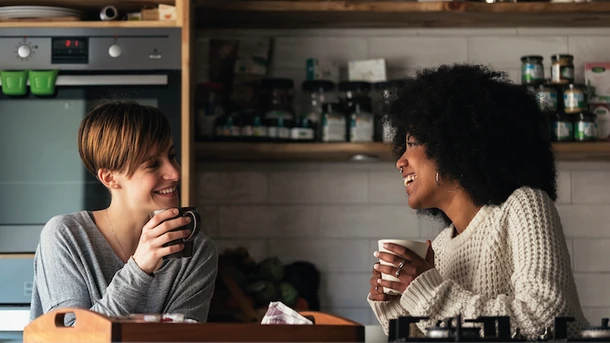 You might find yourself feeling powerless and racked with worry, but through a mix of meditation and seeking out support during your two-week wait, you'll be able to ease the burden of stress (at least a little bit!).
What is the two-week wait?
The two-week wait (2WW or TWW) is the time between ovulation and your next expected period - aka the longest two weeks ever.
You'll find yourself constantly wondering if every twinge, ache, and mysterious new symptom is a sign of pregnancy, which can really heighten anxiety.
5 tips for mindful two-week wait
For anyone currently in the limbo period and itching to pick up a pregnancy test, here are some tips to help you balance the nervousness with some hope and calm to make the two-week wait more bearable.
Lean into distractions
There's nothing like a good distraction to help you keep your mind busy.
To stop yourself from obsessing over your two-week wait symptoms, focus on crushing those work goals or taking on a new project.
If you know when you'll be doing your fertility procedure or have your ovulation timed, plan ahead to make sure you have something to do every day to keep you busy.
Let hope in and be positive
It can be difficult and scary to be hopeful during the 2WW (especially if you've undergone many cycles in the past without success).
But it's important to try your best to fully embrace hopefulness.
Remind yourself that you have done everything in your power to get to this moment of pregnancy.
By being hopeful - and positive - you give yourself the chance to fully experience this moment of possibility rather than automatically discounting your chances of success.
Meditate daily
Trying to conceive can cause so much stress and anxiety.
A great way to combat this - especially during the dreaded 2WW - is to try meditation.
If you've never meditated before, all you need to do is be mindful of your breathing.
Sit with your eyes closed for 3-5 minutes and focus on deep breathing. If you want to follow a breathing partner, do a count of six seconds for your inhale and exhale.
This will help you:
🧘‍♀️ Shift from the "fight or flight" state to the "rest and digest" state.
🧘‍♀️ Stay in the present moment instead of worrying about the what-ifs of the future.
🧘‍♀️ Prevent a spiral of negativity.
🧘‍♀️ Regain a sense of control.
Trust me, it only takes a few minutes to feel the relaxing benefits right away.
And the best part is that breathing techniques can also be used outside of your meditations as a stress management technique (think: at your next doctor's appointment to settle your nerves, or before taking a pregnancy test!).
Avoid triggers
During the two-week wait, it's key to avoid triggers as much as possible in order to prevent negative thoughts and worries from taking hold of your mindset.
Remember: it's okay to say no to catching up with friends, scrolling social media, and attending events like baby showers during this fragile time - your feelings are valid, and this will help keep those triggers at bay.
Tap into your tribe
Wondering what not to do during the two-week wait?
It's simple, don't do it alone. It's the perfect time to connect with others for support.
Whether that's through Peanut, your fertility mentor, or your partner, allow yourself to be vulnerable and ask for help.
Sometimes, knowing that someone is there and ready to listen can relieve some of the stress you're feeling and help you feel less alone.
When the time comes to take your pregnancy test, give yourself time and space to process the result no matter the outcome.
You've got this.
💡 You might like:
Dealing With Infertility: What It's Like and How to Cope
What Do Faint Lines on a Pregnancy Test Mean?