Whether you have Ukrainian heritage or would simply like to pay homage to this mighty nation, Ukrainian baby names offer a world of choice.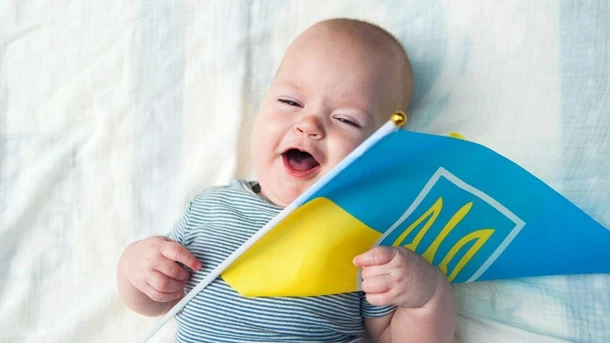 The second-largest country in Europe, Ukraine is home to exquisite natural landscapes and deep, long-lasting traditions.
Its vibrant culture boasts colorful floral headdresses, lively traditional dance, and an interesting custom of plunging into ice holes in January.
Also, we have to mention how they've upped the bar on Easter egg painting. Seriously.
Ukrainian pysanka, or painted eggs, are a sight to behold.
In this article 📝

What are Ukrainian names?

What are common Ukrainian names?

Ukrainian girl names

Ukrainian boy names
What are Ukrainian names?
Ukrainian names usually consist of a:
Given name (or imia), which often originates from biblical names or names of saints.

Patronymic (or otchestvo), a name usually derived from the name of a father or grandfather. For boys, these will usually end in -ovich or -evich, and for girls in -ovna or -evna.

Last name (or *familiia)
We've put together a list of Ukrainian names we love to help you with your choice.
What are common Ukrainian names?
Many of these are on the list of most popular Ukrainian names published by the Ukrainian Ministry of Justice.
112 women are talking about 'baby names' on Peanut. Download the app to join the conversation.
Ukrainian girl names
Let's start with our list of Ukrainian baby girl names:
Alla. This name is the Ukrainian version of the Russian name А́лла and refers to the Gothic Saint Alla. It means "other."

Alisa. "Noble"

Anhelina. The Ukrainian form of the name Angelina, and means "messenger."

Anna. With its Hebrew origins, Anna means "grace" or "favor."

Annael. "The grace of God"

Arina. This beautiful Slavic name means "peace." 🕊️

Bohuslava. "The glory of God"

Bozhena. "Divine"

Daryna. A name also of Slavic origins, Daryna means "the gift of God."

Diana. This name is popular all over the world and means "divine" or "goddess-like."

Feya. Of Hebrew origin, this sweet name means "fairy." 🧚

Fiona. Meaning either "fair" or "vine," this name is of Gaelic origin.

Ganna. "Full of grace"

Herda. This cute name has Czech origins. It means "thump" and is reserved for the particularly clumsy.

Hlafira. A version of the Russian name Glafira, Hlafira means "polished" or "elegant."

Inna. This saintly name means "fast river" or "sparkling water." It's also a short form of Irene, meaning "peace." 🕊️

Iryna. "Peace" 🕊️

Iya. "Violet flower"

Kateryna. "Pure"

Khrystna. "Follower of Christ"

Klavdiia. A version of the name Claudia, Klavdiia means "lame."

Kseniya. This welcoming name has two beautiful meanings — "wanderer" and "hospitable."

Lada. In Slavic mythology, Lada is the goddess of beauty and love.

Layan. "Soft" and "tender"

Liliya. The Ukrainian version of Lily, this name is bursting with sweet fragrance.

Lidiya. Referring to someone from Lydia in Persian, Lidiya means "noble one."

Lyubov. Of Slavic origin, Lyubov means "love." ❤️

Marselina. "Dedicated to Mars"

Mariya. This popular name means "of the sea," "bitter," "rebellious," and "beloved."

Milana. "Gracious" or "dear"

Myroslava. "Destined to be glorious"

Nadiya. A name popular in various parts of Eastern Europe and beyond, Nadiya means "hope."

Nataliya. For lovers of Christmas, this one should be a favorite. It refers to Christmas Day and also means "birthday."

Oksana. "Praise be to God."

Olena. "Shining light" 🌟

Oresta. From the Greek Orestes, Oresta means "one who conquers mountains."

Oriyana. "The golden one" 💛

Roksolana. Roksolana was the beloved Ukrainian born wife of emperor of the Ottoman, Suleiman the Magnificent.

Sevil. From its Turkish origin, Sevil means "be loved." ❤️

Sofia. A name popular in various parts of the world, Sofia means "wisdom."

Solomiya. From Hebrew origins, Solomiya means "peaceful woman." 🕊️

Svitlana. This Slavic name means "light," "shining," and "blessed." ✨

Teona. "Divine"

Tetyana. The Ukrainian version of Tatiana, this name refers to the queen of the fairies. 🧚

Valeria. "To be strong"

Vasylyna. From its Greek roots, Vasylyna means "chief."

Veronika. This name has two powerful meanings — "bringer of victory" and "true image."

Viktoria. "Victory"

Vira. "Truth" or "faith"

Vladyslava. "Glorious ruler"

Yeva. "Life" 🌱

Yoraslava. This Slavic name means "spring glory."

Yelyzaveta. "Sacred"

Zlata. "Golden" 💛

Zolushka. This sweet fairy tale name is the Russian version of Cinderella.
Ukrainian boy names
And here are the top Ukrainian baby boy names:
Alikhan. "Prince" 👑

Andriy. This powerful name means "manly," "strong" and "warrior."

Arkady. With its Greek origins, this saintly name refers to someone from Arcadia.

Artem. This name means "dedicated to Artemis," the goddess of wild animals and childbirth.

Bohdan. "God's gift"

Bohuslav. A name of Slavic origins, Bohuslav means "God's glory."

Borys. This popular name means "warrior."

Boryslav. "Fighting for fame"

Boyan. "Warrior"

Danylo. A Ukrainian version of Daniel, Danylo means "God is my judge."

Denys. From its Greek origins, Denys refers to a follower of Dionysus, the god of fertility and wine.

Dimitr. This one's for followers of the Greek goddess of agriculture, Demeter. 🌱

Dmytro. From the Greek name Demetrios, this one also honors Demeter's followers.

Dovud. A Ukrainian version of David, Dovud means "beloved."

Estas. "Star" ⭐

Fedir. "Gift of God"

Feliks. "Happy"

Georgiy. From its Greek origins, Georgiy means "farmer." 🚜

Grygoriy. This Ukrainian variant of Gregory means "watchful" or "alert."

Ihor. A Ukrainian version of Igor, this renowned name means "warrior of peace." 🕊️

Ilay. From its Greek origins, Ilay means "rising" and "supreme."

Isai. "God is salvation"

Ivan. This Slavic name means "God is gracious."

Kirill. A version of the Greek origin name Cyril, Kirill means "master."

Kostyantyn. "Steadfast"

Kuzma. From the Greek Kosmas, Kuzma means "universe."

Makar. "Blessed"

Maksym. "One who is the greatest"

Matviy. Of Hebrew origin, Matviy means "given by God."

Mykyta. "Winner" 🥇

Nazar. This name refers to someone from Nazareth, making it an important name for Christians.

Oleh. This East Slavic name means "sacred" and "blessed."

Oleksandr. The Ukrainian version of Alexander, Oleksandr means "defender of men."

Robin. "Fame" and "bright" 🌟

Roman. From its Hebrew origins, Roman means "strong" and "powerful."

Spartak. This one is a reference to the ancient Roman rebel and athlete, Spartacus.

Straton. "Army"

Tymofiy. The Ukrainian version of Timothy, this name means "God's honor."

Umut. From its Turkish origin, Umut means "hope."

Yehor. "Farmer" 🚜

Zakhar. "The Lord has remembered"
And if you want some inspiration from other parts of Europe, why not take a trip around these top favorites:
200+ Spanish Baby Names for Your Bebé to Be
60 Magnifique French Baby Names
49 Bellissimi Italian Baby Names
96 Romanian Baby Names for Your Bebelus
Irish Baby Names: Meanings, Origins
166 Greek Baby Names
117 Armenian Baby Names and Their Meanings
90 Latin Baby Names
120 Polish Baby Names for Strong Boys and Girls
88 Dutch Baby Names
98 Lithuanian Baby Names
133 Swiss Baby Names
450+ Magnificent Norwegian Baby Names (With Meanings)
160+ of the Best Traditional European Baby Names
70+ Danish Baby Names and Their Meanings