VCH piercing piqued your interest? Let's look at the ins and outs of this procedure.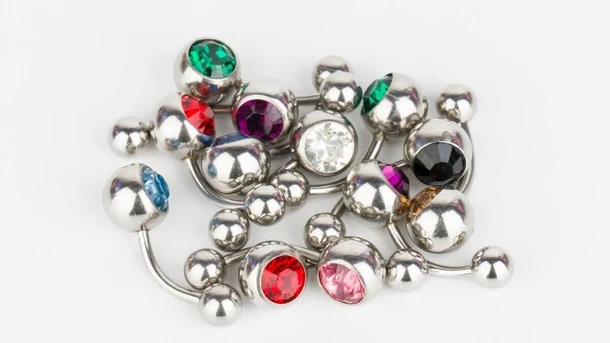 If you're new to this game, it may surprise you to find just how many methods there are for piercing genitals.
There are inner versions, outer versions, clit piercing versions, and labia piercing versions.
Some increase sensation and others can be an awesome addition to your aesthetic.
Several have fun names, like the Christina. And others are positively royal (yep, there's the Princess Diana and the Princess Albertina).
And then there's the piercing of the moment — the VCH piercing.
So what is a VCH piercing? Let's dive in.
In this article: 📝

What is a VCH piercing?

What is the difference between a VCH and Christina piercing?

How much does a VCH hurt?

How long does a VCH piercing take to heal?
What is a VCH piercing?
Before we answer that, let's start at the very beginning:
What is a VCH?
VCH stands for vertical clitoral hood — and this acronym can only be understood once it's been pierced.
Your clitoral hood is a fold of skin that protects your all-important clitoris — an area of significant nerve supply.
The hood is tucked inside your labia for added protection.
The clitoris itself is actually more on the inside than the outside. In fact, the body of the clitoris can stretch up to five inches inside you.
The part you can see (and touch 🎉) is only the tip. That's the little mound called the glans. And it's covered by the hood.
So a VCH piercing is not exactly a clit piercing, per se. It's actually a hood piercing.
And the vertical part in VCH? Well, that's the direction in which the piercing is done.
108 women are talking about 'female health' on Peanut. Download the app to join the conversation.
What is a pierced VCH?
It's not the only clitoral hood piercing — there's a horizontal one too. Hence the need to include vertical in the title.
The vertical part of it all means that your piercing will run vertically, while the horizontal version would be perpendicular to that.
A VCH piercing is a great way to adorn this most exquisite body part. Adding some jewelry to this magic mix can be super appealing.
Also, there are many reports that VCH piercings may increase your pleasure.
And considering that clitorally stimulated orgasms are such a big deal, this is definitely worth taking into consideration.
But while this can be so much fun, there are some important things to keep in mind:
Genital piercing is not without some risks. We don't want to put you off, but as this study tells us, there's a chance of contracting tetanus, Hep B or C, HIV, or other viruses. Also, piercings may become infected if they're not cleaned properly.

Consider the implications if you're TTC. There's a chance that, if you're trying to conceive, a VCH piercing could interfere with vaginal birth — simply because of its location.

Make sure you get it done by a professional. Regulations of tattooing and body piercing is a tricky one — and there's no real uniformity on it within states. Bodies like the Association of Professional Piercers exist to help you find the safest options. Best case scenario? Opt for a studio that has come to you through a trusted recommendation.

Have a consultation before the big day. This can help ensure that everyone's on the same page. This is a pretty intimate procedure and you want to make sure that you feel comfortable with it all.
What is the difference between a VCH and Christina piercing?
Also known as a Venus piercing, a Christina is a piercing done where your labia majora (the outer lips of your lower half) join together.
It's where the lips meet with the pubic mound. This is also called the cleft of Venus — hence the name Venus piercing.
While for many, a VCH piercing can be a very stimulating exercise, a Christina piercing is less about sensation and more about show.
That's because it's a bit further away from where the explosive action happens.
One thing to know about the Christina is that not every body wants one.
It has a high rejection rate — it all just depends on how your body comes together in that area.
How much does a VCH hurt?
Considering the nature of the task, the answer is — at least a bit.
And, as professional piercers report, even though this is a sensitive area, the pain is definitely not disproportionate to other piercing types.
One important thing to know is that anesthetics are not used for piercings.
And while that might sound alarming, it may also be an indicator of how bearable the pain is.
How long does a VCH piercing take to heal?
VCH piercings take about four to eight weeks to heal.
The Association of Professional Piercers recommends:
Follow all the cleaning instructions given to you. This usually involves washing your hands, washing the site with a saline rinse and gently patting it all dry. Avoid any harsh cleaning products, including alcohol and hydrogen peroxide. Also, showers are a better idea than baths to avoid bacteria getting in there.

Be prepared for bleeding. It happens.

Wash your hands before touching on (or near) a healing piercing.

You can have sex. Just go gently and keep things as hygienic as possible.

Use protection, even in monogamous relationships.
If you feel like a VCH piercing is right for you, there are ways to do it relatively safely.
Enjoy! 💎💖
💡 More from The 411:
30 Irresistible Shoulder Tattoos for Women
Your Belly Button Piercing After Pregnancy
Swollen Vagina? Causes and Treatments
Boil on Vagina? Causes and Treatments
How to Make Your Vagina Smell Good
Why Do I Have Pain in My Left Ovary?
Fishy Vagina Smell: Causes, Symptoms, Treatments
Should I Be Worried About Vagina Pimples?