We live in a world where it is necessary to reuse and recycle. When it comes to naming your baby, this principle can come in very handy. The good news is, many vintage baby names are back in style—or they simply never went out of style in the first place.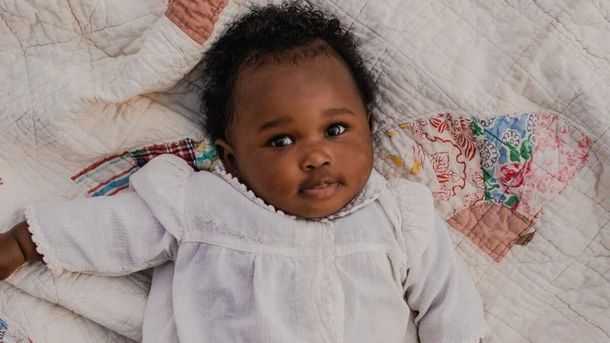 From Aurelia to Winston, old-fashioned names are making as big a comeback as 90s sitcoms. So what are good vintage names for your new arrival? Let's take a look.
Unique vintage baby names
As any fashion lover knows, often the most unique finds come from the vintage store.
Likewise, sometimes answering the question of what is the rarest child name? doesn't mean diving into the future—rather, it means traveling back into the past.
Here are our favorites:
Vintage baby girl names
Adeline. A noble name for a noble baby.

Adelaide. A name of queens, this old German name means "noble natured."

Agatha. It's no mystery that this name means "honorable."

Agnes. "Pure"

Alice. Straight from beyond the looking glass, this genteel name never goes out of style. 🐇

Alma. "Nourishing"

Amara. A name that has a home in many countries throughout the world, Amara has all sorts of meanings—"grace," "immortal," and "bitter."

Amelia. "Work"

Arabella. "Answered prayer" 🙏🏼

Aurelia. "Golden one"

Aurora. Meaning "dawn," Aurora is also one of Sleeping Beauty's names.

Beatrix. "Voyager"

Bernadette. With its French origins, Bernadette means "brave bear." 🐻

Bessie. A shortened form of both Elizabeth and Beatrice, Bessie means "God is my oath."

Birdie. 🐦

Blythe. This sweet name means "cheerful person."

Bonnie. From Scottish roots, this ever-popular name means "beautiful" and "cheerful."

Calliope. A combination of "Kallos" meaning "beauty" and "ops" meaning "voice," this is a name for a person with a sweet song to sing. 🎶

Carol. This name has various connections (to Charles, to Carl, to Carolyn). Our favorite meaning for it? "Joyful song."

Colette. "People of victory"

Connie. From Constance, this is a name for a person you can rely on.

Cora. A version of the ancient Greek goddess, Persephone.

Cecilia. "Blind"

Charlotte. "Free person"

Clara. "Clear" and "bright" 🔆

Dahlia. As in the flower. 💮

Daisy. An ever-popular name, Daisy may find specific resonance with fans of The Great Gatsby. 🌼

Daphne. The Daphne from Greek mythology transformed into a laurel tree. Nice trick.

Dessie. A short form of Desiré, Dessie means "the desired one."

Dora. Meaning "gift," this name has now been made famous by a certain explorer.

Doris. The name of famous Hollywood star Doris Day, this classic name means "gift."

Dorothy. Click your heels together three times for this gift from God.

Edith. "Blessed"

Elaine. "Shining light" 🌟

Eleanor. "Bright" and "shining"

Eloise. This real classic means "healthy."

Emma. "Whole"

Emily. From Greek origins, this timeless name likely means "persuasive."

Enid. "Spirit"

Esme. "Esteemed"

Ethel. "Noble"

Etta. "Ruler of the household." And for jazz lovers, this is a fitting tribute to Etta James.

Eugenie. "Noble"

Evelyn. "Wished for child"

Faye. "Fairy" 🧚

Florence. "Blossoming" 🌸

Freya. A Nordic name meaning "noble woman."

Genevieve. Meaning "woman of the tribe," Genevieve is the patron saint of Paris.

Georgia. If this name's on your mind, you're not alone. It means "farmer."

Gertrude. Meaning "spear" and "strength", the shortened form Greta is a sweet alternative.

Harriet. "Ruler of the household"

Hazel. From the hazelnut tree. 🌳

Hilda. A strong name meaning "battle."

Irene. "Peace" 🕊️

Imogen. "Maiden"

Iris. "Rainbow" 🌈

Ivy. A climbing vine.

Josephine. "God shall increase."

Joyce. "Lord"

Katherine. "Pure"

Lucille. "The light" 💡

Luisa. "Famous warrior"

Lydia. "Beautiful one"

Mabel. "Lovable"

Margaret. Meaning "pearl," this timeless name has a variety of shortened forms—Maggie, Mady, Daisy and Peggy, to name a few.

Martha. "The lady"

Mathilda. Meaning "strength in battle," this is also the name of Roald Dahl's famous little reader.

Maxine. "Greatest" 🏆

Miriam. "Beloved"

Minnie. More than a beloved mouse, this name means "wished for child." (Oh, and if you're looking for more Disney names, head here.)

Nora. "Light"

Octavia. This Ancient Roman name means "born eighth." And if sci-fi is your jam, this name is the perfect nod to Ms. Butler.

Olive. "Peace"

Opal. As in the exquisite jewel.

Ophelia. Hamlet's love, her name means "help."

Patricia. "Noble"

Pearl. 🦪

Penelope. The weaver from Homer's The Odyssey.

Phoebe. "Bright" 🔆

Polly. "Humble"

Posey. A bunch of flowers 💐

Rosemary. As in the fragrant herb.

Ruth. "Friend"

Sadie. "Princess" 👸🏻

Sandra. "Protector of humankind"

Scarlett. From actresses to heroines of famous novels, Scarlett never goes out of style.

Selma. "Peaceful"

Seraphina. A Hebrew name meaning "fiery."

Shirley. "A bright meadow"

Stella. "Star" ⭐

Sylvia. "Forest"

Trudy. "Universal strength"

Una. "Truth, beauty, unity"

Willa. "Brave protector"
Vintage baby boy names
Abraham. "Father of many"

Albert. "Noble," "bright," "famous"

Ambrose. "Immortal"

Amos. This biblical name likely has two meanings—"to carry" and "borne by God"

Ansel. Think of the famous photographer, Ansel Adams.

Archie. Made famous by princes and comic characters alike.

Aron. "Mountaineer" ⛰️

Archer. 🏹

Arthur. "Bear" 🐻

Asher. A biblical name meaning "happy" and "blessed."

Atlas. For a baby that can hold up the whole world. 🌎

Atticus. Any lovers of To Kill a Mockingbird out there?

August. From the Roman Augustus, this powerful name comes from the Latin word augere, meaning "to increase."

Beau. "Handsome"

Benedict. The name of a beloved Cumberbatch, Benedict means "blessed."

Bernard. "Brave bear" 🐻‍❄️

Blaine. "Yellow" 💛

Caleb. A proud Hebrew name meaning "faithful," "bold," and "brave."

Caspian. The name of both a sea and a prince, Caspian means "white."

Clarence. "Bright" and "clear"

Cornelius. This bold name likely stems from the Latin cornu, meaning "horn."

Cyrus. "Sun" ☀️

Darcy. "Dark"

Desmond. "Gracious protector"

Earl. A name for a noble warrior

Edison. This name might just give you a real light bulb moment. 💡

Edmund. "Protecting the fortune"

Erwin. "Friend of the boar" 🐗

Elijah. "The Lord is my God."

Elliot. "God on high"

Elon. Meaning "oak tree," this name has a musky flavor.

Emmett. "Universal"

Ernest. The importance of this name is clear for fans of Oscar Wilde.

Ezra. "Help" and "protect"

Felix. "Lucky" and "fortunate"

Finn. "Fair"

Frank. "Frenchman" or "free one"

George. "Farmer"

Gerald. "Spear"

Griffin. "Strong in faith"

Gunther. "Battle warrior"

Gus. This timeless name means "majestic"

Harold. With its Scandinavian roots, Harold means "army ruler." Plus, the shortened form Harry never goes out of style.

Harvey. "Battle worthy"

Hector. From the Trojan prince of Greek mythology, Hecto means "to hold."

Henry. "Ruler of the house"

Holden. For fans of J.D. Salinger's The Catcher in the Rye, Holden means "from the valley."

Howard. "Brave heart" 💖

Hugh. "Intellect"

Jasper. "Treasurer"

Jarrett. "Rules with the spear"

Jedediah. A Hebrew name meaning "beloved of the Lord"

Joel. "The Lord is God"

Jude. "Praised"

Kenneth. "Handsome"

Langston. Meaning "from the tall man's town." And the name of the famous poet, Langston Hughes.

Lee. "Meadow"

Levi. "United"

Lionel. "The little lion"

Louis. "Famous warrior"

Marshall. "Horsekeeper" 🐎

Miles. A name for a proud soldier.

Milo. A sweet name meaning "beloved."

Nelson. An historic name meaning "Son of the champion"

Neville. "From the new village"

Norman. The perfect name for a "Man from the North"

Oliver. From the Latin for "olive tree," the old Norse meaning is "ancestors' descendents."

Oscar. "Spear of the gods"

Otis. Like the crooner Otis Redding.

Otto. "Wealth and prosperity"

Owen. A name for a young, noble warrior.

Pierce. A variant of Peter, meaning "rock."

Presley. For fans of Elvis, this name means "the priest of the meadow."

Preston. "A village with a priest"

Ralph. "Famous wolf" 🐺

Raymond. "Famous protector"

Reginald. "King" 👑

Richard. "Strong ruler"

Roy. "King" 👑

Rutherford. A Scottish surname, Rutherford means "cattle crossing."

Sebastian. More than a popular crab, Sebastian means revered. (And if you're looking for more Disney names, head here.)

Sherman. "Sheep shearer" 🐑

Silas. "Forest"

Spencer. "Steward"

Stanley. "Stoney meadow." And yep, just like the famous hockey cup.

Sterling. "Of high quality"

Theodore. "A gift from God"

Tobias. "God is good"

Waldo. Yay! You found him. This name means "powerful ruler."

Whitman. After the poetic Walt.

Wilber. "Bright will"

Winston. The name of a famous British prime minister, Winston means "joyful stone."
You can't go wrong with any of these names. All the best with your choice.
👶 More baby names:
83 Cottagecore Baby Names
40 Flower Baby Names for Boys With Meanings
138 Unisex Baby Names
138 Nature Baby Names
57 Gender-Neutral Baby Names
150 of the Most Cool and Rare Baby Names
100 Disney Baby Names
100+ Baby Names That Mean Peace
50 Baby Names That Mean Fire
47 Baby Names that Mean Moon
218 Beautiful Exotic Baby Name
180+ Nonbinary Baby Names For Your Little One
100 Anime Baby Names
132 Ethereal Elvish Baby Names
100+ Virtue Baby Names (and Names That Mean Virtue)
71 Greek Mythology Baby Names
45 Dragon Baby Names for Your Little Firecracker
190+ Magnificent Old English Baby Names