Water inspires peace and tranquility and also conjures images of powerful ocean waves and rushing rivers. It's life-giving and sustaining—and something we truly cannot live without. These water baby names honor the magic of H₂O.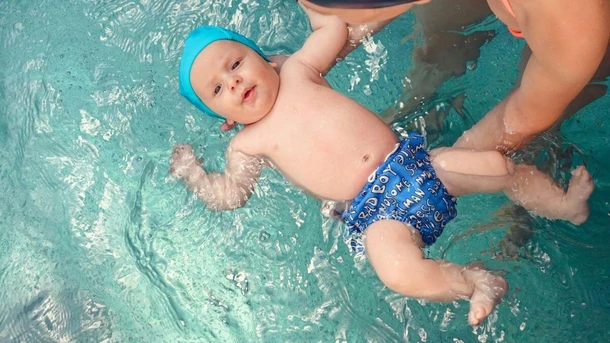 So, it's time to get your feet wet, test the waters, and make a splash. Let's dip our toes into this list of the best baby names inspired by water.
What are some water names?
Up to 60% of our bodies are made of water, so it makes sense that so many incredible baby names are inspired by our aqueous natures.
Here are our favorites.
What baby name means water? 💧
Here are some examples from all over the world of names that mean water.
Latin: Aqua
Bardo. This name has German and Tibetan origins.
Hebrew: Maya or Maia (It also has a bunch of other meanings in different cultures—"great," "illusion," and "good mother," to name a few.)
Egyptian: Mesi
Nahla. This powerful Arabic and African name means "the first drink of water."
Ugandan: Namazzi
Tallulah. An Irish name meaning "leaping water"

What are some water girl names?
Adair. A shallow place in the river near an oak tree
Amaya. Of Spanish origin, this soothing name means "night rain."
Anahita. An ancient Persian goddess of the water
Avonlea. Meaning "river by the field"
Azure. A beautiful shade of blue.
Beverly. Meaning "beaver stream," there have been so many famous Beverlys through the ages, from children's book writers to singers to doctors to actors.
Brooke or Brook. Like a babbling one
Cary. Cary is the name of an old Celtic river.
Cascade. Like a waterfall
Chantara. This name of Thai origin means "moon water."
Delta. Like the river
Eyre. As a middle name? With Jane, perhaps? Maybe too much. But as a name on its own, pronounced "air" and meaning "riverbank", gorgeous.
Guadalupe. This Spanish name is quite rare these days. It means "river of black stones".
Jenna. A shortened form of Jennifer, Jenna proudly stands on its own. It means "white wave," as well as "magical being."
Jennifer. If you're looking for a versatile name with many variations, Jennifer means "white wave."
Kendall. A river valley in Kent, England
Kendra. Elegant and strong, from old English. This is one of our favorite girls' names that mean "water".
Kisima. A Swahili name meaning "spring"
Lake. These English water names are back in style.
Laguna. A pool or pond
Lynn. A Welsh name meaning "lake"
Misty. Covered in little water droplets
Narelle. This name has a French feel, but it originally comes from Australia and means "little river".
Nerida. In ancient Greek, the nereids were mermaids.
Nile. As in the largest of rivers
Nimue. Heard of the Lady of the Lake from the Legends of King Arthur? This was one of her names.
Nixie. This feisty name is of German origin and means "water sprite."
Nori. Yes, it is seaweed—but this beautiful name also means "belief."
**Ondine.**This is a Latin word meaning "little wave". Sweet and strong.
Rain. There's no messing about with this water name. It gets straight to the point.
Ren. This sweet name means "water lily."
Sabrina. Not only is she a teenage witch, she is also a river—the River Severn, to be precise.
Sereia. Another mermaid name, this time from Portuguese.
Serena. Like calm water.
Shannon. Meaning "old wise river".
Talia. "Dew of Heaven"
Tarni. Surf's up! This name is very popular in Australia, where it means "wave".
Vanora. An unusual name that means "white wave".
Yara. Another unique choice for your water baby. It has roots in Arabia and ancient Persia, as well as Brazil, where it means "water lady".
Zarya. A name with Arabic, Nigerian and Slavic roots, Zarya means "water priestess."
What are some water names for boys?
Alon. Another name meaning "wave" for your future little sailor.
Banks. Like the banks of the river
Beck. A brook or stream
Beckett. This name means "little brook"
Beckham. Yes, a famous soccer player, but also a peaceful name meaning "home by the stream".
Bourne. Someone who lives beside a stream
Bradford. Meaning "river crossing".
Calder. "A stony river"
Callan or Kallan. Originally from Scandinavia, this name means "running water".
Carlow. As well as being a part of Ireland, Carlow means "lake".
Cove. An inlet or protected sanctuary of water
Clyde. The name of a Scottish River—and, of course, the name of a famous outlaw
Cruise. A nod to crossing the sea, with hints of a certain uber-successful movie star of course.
Devere. A French name, meaning "from the fishing place".
Douglas. "Black stream"
Eaton. This is one of our favorite water names for boys, and it could be an edgy alternative to Ethan. It means "riverside".
Fisher. The first step to having a little fisherman on your hands
Ford. Before it was a car, it was a river crossing.
Harbor. A safe haven for boats, this could be a strong water name for your future son.
Holmes. Not Sherlock, but an island in the river.
Hudson. From New York's Hudson River, this name also means "Hugh's son."
Indra. "Possessing raindrops", from Sanskrit. He was also a god of the rain and sky.
Irving. "Green, fresh water"
**Jordan. This popular, totally gender neutral Hebrew name means "flow down."
Kano. With origins in both Africa and Japan, this name means "God of the Water."
Kent. From the River Kent
Lincoln. Meaning "a settlement by water," the Lincoln name has many historical resonances.
Loch. A Scottish lake or sea inlet
Malek or Malik. This name can mean "wave", but also "king". Both are meanings for your little boy's name.
Maxwell. "A great stream"
Moses. This biblical name means "to draw out of the water."
Rafferty. This Irish name means "flood"—but in a good way. Like an abundance of water.
Remington. It means "place on a riverbank," but it's also the name of a famous gun manufacturer.
Rio. The Spanish and Portuguese name for "river."
Ripley. This name reminds us of the waves and ripples at the edge of a river.
River. This one needs very little explanation, except to say that it is ever-popular.
Struan. A Scottish word for a stream, and a unique alternative to Stuart.
Tiberius. Meaning "near the River Tiber," this name comes with a whole lot of gravitas.
Wade. To go through the water
What are good ocean names? 🌊
And here are some names that mean ocean or are related to the ocean in some way.
Aalto. A Finnish name meaning "wave"
Adrian. This popular name is of Latin origin and means "sea" or "wave."
Bay. A perfect name to pay tribute to the coast. You could also opt for the Portuguese option: Baia.
Caspian. As in the sea
Cordelia. The Celtic name means "Daughter of the Sea." And she just so happened to be the most gentle and just of King Lear's daughters.
Darya. This beautiful name means "ocean".
Delmar or Delmore. A boy's name meaning "from the sea".
Deniz. A Turkish name meaning "sea"
Doris. This sweet name means "Gift of the Ocean"—and it's worth taking note that vintage names like this are set to make a comeback.
Dylan. While this name means "son of the sea," it's become increasingly popular as a girl's name too.
Eldoris. A strong boy's name meaning "from the ocean".
Guinevere. A sophisticated Welsh name, Guinevere means "white wave." Fun fact: this is the name that gave birth to "Jennifer."
Hali. Another lovely girl's name meaning "ocean".
Hurley. A unique name referring to the tides
Kai or Kairi. The Hawaiian version of this name means "sea." The Japanese meanings extend to "restoration" and "recovery."
Moana. This beautiful Hawaiian name means "ocean." And of course, it's a favorite when it comes to Disney name options.
Malik. This majestic Arabic name means "wave" and "king."
Mar. A short, strong boy's name meaning "of the sea".
Marino. By the shores of the sea.
Marella. A melodic girl's name meaning "ocean".
Maren. "Star of the sea" ⭐ 🌊
Marina. "The maiden of the sea"
Maury. A boy's name relating to the ocean.
**Merlin. ** A magical name meaning "of the sea".
Mieke. From Dutch and then Afrikaans ori
gins, Mieke means "star of the sea."
Mira. Of Latin origin, Mira means both "ocean," "admired," and "ruler."
*Morgan. A gender-neutral name meaning "sea warrior".
Morwenna. Meaning "waves of the sea," this name sounds like its meaning.
Murdoch. Meaning "mariner" in Gaelic.
Muriel. An old-fashioned name meaning "from the sea".
Murray. From the Scottish "settlement of the sea".
Naia. A Short girl's name meaning "ocean".
Nerissa. Another oceanic girl's name.
Ocean. A perfect place to end our list (and to take a vacation). This name stands strongly on its own.
Poseidon. The Greek god of the sea.
Thalassa. Meaning "under the sea".
Tide. Like the ebb and flow of the ocean.
Zale. A Greek name meaning "sea-strength".
Good luck in choosing the perfect name for your water baby. We hope you have a baby that goes with the flow, and we wish you the best of luck in riding the parenting waves!

113 women are talking about 'baby names' on Peanut. Download the app to join the conversation.
👶 More baby names:
64 Baby Names That Mean Ice
100 Space Baby Names for Boys & Girls
234 Cowboy Baby Names for the Wild at Heart
45 Dragon Baby Names for Your Little Firecracker
91 Celestial Baby Names & Their Meanings
231 Magical Harry Potter Baby Names
250+ Adorable Baby Names That Mean Love
101 Brilliant Baby Names That Mean Light
267 Heavenly Baby Names That Mean Star
126 Mighty Baby Names That Mean Warrior
74 Baby Girl Names That Mean Love
58 Baby Names That Mean Hope
70 Enchanting Baby Names That Mean Night
86 Baby Names that Mean Gift from God
73 Charming Baby Names that Mean Lucky
40 Nautical Baby Names for Adventurous Boys & Girls