We've got all the deets on the baby shower— what is a baby shower, baby shower ideas and best gifts for mama's big day!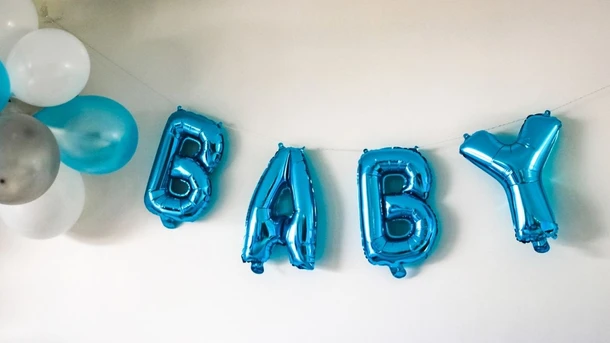 If you're reading up on baby showers, either you or someone very close to you is about to have a baby. Celebrations and gifts are in order. Baby showers typically happen within the last trimester of pregnancy, when mom is pregnant enough to be showing, but has gotten over the nausea and vomiting that comes during the earlier months (we hope!).
She needs a day to celebrate and to get the nursery ready. The nesting period is coming soon, so let's make sure mom is stocked up on diapers, baby bottles, and nursery furniture. The baby shower may be planned, but the baby's due date is never 100% certain!
In this article: 📝

So what is a baby shower?

What are baby showers for?

Who throws a baby shower?

Need some baby shower ideas?

Is there such a thing as baby shower etiquette?

What do you do at a baby shower?

What are the best gifts for a baby shower?

Best Baby Shower Gift Ideas:
So what is a baby shower?
A baby shower is the day that the soon-to-be mama gets the love, attention and gifts she deserves. This is an amazing day to get all the gang together, and spoil mom with great food and great company.
What are baby showers for?
They are for a day of fun! True- but the real reason we have baby showers is to make sure mom and dad can get much needed baby supplies gifted by friends and family.
Who throws a baby shower?
The mom-to-be's sister, aunt or mom most often throws the baby shower. There's no rule here! It can be the best friend (or a group of friends), co-workers or even the dad's family or friends. The idea is that anyone close to the new mom, who wants to celebrate her and the little one, can make the effort to throw a little bb party.
Need some baby shower ideas?
There are so many great ways to throw a baby shower. It all depends on the mom-to-be. Is she someone who wants her friends and family to gather in someone's backyard? Would she enjoy a favorite restaurant in the city? This is about mom, so plan something she would love and enjoy while pregnant. Good food is high on the list as are refreshing drinks and over-the-top desserts. Those work in any setting.
Is there such a thing as baby shower etiquette?
The most important etiquette for a baby shower is to do what makes mom happy. The same goes for this being a girls only party. The tradition is that boys are not invited, but tradition means nothing if the new mom isn't happy. If she wants her fiance there to help open the gifts, then that's the only rule to follow.
➡️ Find more: Baby Shower Etiquette: 7 Guidelines
What do you do at a baby shower?
What happens at a baby shower is that you eat good food and have fun. There's seeing all the family and friends you haven't seen in a while, enjoying a great lunch and watching mom open much needed gifts. If this mom is a fun one, then add in some baby shower games. Even the lame ones give everyone a great laugh. These games are baby shower traditions!
A few of our favorite baby shower games are:
➡️ Find more: 15 Baby Shower Games
What are the best gifts for a baby shower?
In a nutshell, the best gifts are any that can be used during a baby's first year. If you're the gift giver, please include the receipt. It's so hard to anticipate what size baby will be wearing when they're born, what smells mom can tolerate during the first months or even what breast pump will work out best.
Best Baby Shower Gift Ideas:
Parasol Diaper Membership Let's face it, the most needed gift is diapers. This subscription box includes all of the natural diapers and wipes that mom needs per month— 3 giant diaper packs, 4 packs of wipes and 2 diaper gift packs for friends. All developed for sensitive skin, crafted with medical-grade, gentle fabrics to be kind to baby's bum and mama earth.
Comotomo Baby Bottle Bundle - The best baby bottle bundle means mom can get started on feeding as soon baby's home. These bottle and nipple shapes most closely replicate the breast, which makes them a favorite amongst mamas.
Pottery Barn Kids EttaVee Bedding Set is the way to get a baby's room ready— with style. We love EttaVee for its vibrant, bold colors and patterns, so it's no surprise the leopard print sheet and muslin baby blanket are our absolute faves.
Niki's Natural Baby Wipes New parents need a lot of wipes (seriously, more than you can ever imagine), so let's start them off with a four-pack (or more) of these eco-friendly, plant-based wipes containing manuka honey and coconut oil.
Nuby Silicone Avocado Teether is a favorite amongst babies and moms. Nuby is a brand moms know and trust, and this teether is enough for the kiddos to chew on and grasp with both hands.
Dr. Talbot's Oral Care Set works for newborns and up. At first, mom can put the gum brush onto her finger for a gentle massage (which babies love!). As the baby grows, you can move up through the 4 step set towards a gentle toothbrush for toddler teeth.
Oribel Cocoon 3-Stage High Chair takes baby from 6 months through toddler-hood. This super-cute, easy to clean chair folds up for storage and has wheels for portability. It has 6 height adjustments and 3 comfortable reclining positions that work for napping and feeding.
Regalo My Play Mat This lightweight, foldable play mat works for tummy time as well as for toddler gymnastics in the living room. One side is covered in a colorful alphabet pattern for the kids while the other is done in a soft grey chevron pattern for when you want to feel more put together.
Oribel PortaPlay Activity Center This convertible activity center is the place baby will be spending a lot of time. And mom will be glad, as it means she can be hands free! It changes over time to keep the kiddos entertained, ultimately becoming an activity table when they're ready for free-standing drawing or playing.
TruBliss Evi Smart Bassinet is the ultimate shower gift, as this is where baby will be taking many, many naps. It's a beautiful, restful, stylish sleeping spot, and it's smart. How smart? Its unique motion, light, and sound features work with Amazon Alexa or Google Home (or through its own mobile app)— pitching in when you need a little help.
World of Eric Carle Muslin Baby Blanket from Pottery Barn Kids You will soon know every single line to every single Eric Carle book, which is not a bad thing. This super-soft, oversized blanket features our favorite Eric Carle character, The Very Hungry Caterpillar.
Baby Brezza Formula Pro Advanced Wi Fi Baby Formula Dispenser The dream gift for any new parent— it makes the formula for you! Just set it with water and powdered formula and let it do the work. It even alerts you when it's ready (and warm) and reminds you by wi-fi when it's feeding time.
Cybex Eezy S+ 2 All Terrain Stroller is a compact city stroller made for family travel. It features an easy-to-open bumper bar and large, all-terrain wheels with all-wheel suspension to ensure a smooth ride on all surfaces. Created for infants from birth (with a CYBEX infant car seat) up to 55 lbs., it's available in six gorgeous colors making it a fabulous shower gift.
💡 More baby shower tips:
28 Show-Stopping Maternity Photoshoot Dresses
200+ Best Mother's Day Gifts of 2022
17 Beautiful Baby Shower Themes
10 Baby Shower Themes for Boys
10 Baby Shower Themes for Girls
What to Write in a Baby Shower Card
The Best Baby Shower Invitation Wording Ideas
Baby Shower Favors: Ideas, Cost, and More
When to Have a Baby Shower
7 Fun & Memorable Gender Reveal Games
26 Ideas for Baby Shower Prizes
Virtual Baby Shower Ideas
What is a Baby Sprinkle? Invitations, Games & Gifts
Fun Baby Shower Cake Ideas
Our Top 10 Baby Shower Venues
The Ultimate Baby Shower Playlist
How to Make a Diaper Cake
Pregnancy Must-Haves: Top 10 Pregnancy Products by Peanut
Best Baby Registries: Tried & Tested
25 Baby Shower Decorations Ideas: Costs, Etiquette & Inspo