Simply put, a doula is a trained professional that advocates for new parents through birth and beyond with non-medical support and encouragement.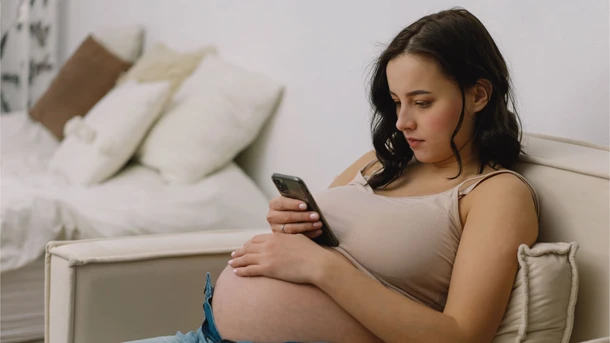 Preparing for birth can feel overwhelming.
Whether you've been to a handful of prenatal classes, or asked all of the questions on Peanut, when it comes down to your own birth experience, it can be hard to know what to expect or how to prepare.
For some mamas-to-be, this is where a doula comes into play.
But what is a doula, exactly?
What does a doula do, and how do you even go about hiring a doula?
Stay calm, mama. Here's everything you need to know about doula services.
In this article: 📝

Why is it called doula?

What is the role of the doula?

Why would a woman want a doula?

What should I look for when hiring a doula?

What is a doula vs midwife?

What does a doula get paid?

How long does a doula stay after birth?

Is it worth getting a doula?
Why is it called doula?
The word "doula" comes from the Greek word doulē, meaning "a woman who serves."
So the doula meaning is a (usually) trained professional who supports a mama-to-be before, during, and immediately after childbirth.
The support they provide can be physical and also emotional, and they can help inform parents to make the best choices for their birthing experience.
They aim to help you have a healthy birth and maintain your well-being after your baby is born.
106 women are talking about 'doulas' on Peanut. Download the app to join the conversation.
What is another word for doula?
Doula is primarily a Greek word, but it's come to be used in the US and UK as well.
But there are other words used to describe doulas that you might be familiar with: birth coach, post-birth supporter, birth companion, birth attendant, labor coach, postpartum coach, or sometimes spelled as "dula" or "douler", although these are technically incorrect spellings, from the original Greek.
What culture are doulas from?
Doulas are originally from Greek culture, but can now be found all over the world.
What is the role of the doula?
So what does a doula do?
If you're considering hiring a doula, these are some of the ways they may be able to guide you through the birth and postpartum period:
Provide a source of information and guidance before birth to empower you in labor.

Offer relaxation techniques, such as mantras, aromatherapy, and music.

Suggest different labor positions to encourage your baby through the birth canal.

Guide you through breathing exercises to cope with contractions and pushing.

Non-medical pain management techniques, such as reflexology and massage.

Act as an advocate for mama's pain relief and birth plan preferences.

Act as a liaison between the medical staff (i.e OB-GYN and midwives) and the family members.

Lactation consultancy and postnatal nutritionist.
How many types of doulas are there?
With that in mind, you might be wondering what a doula can actually do. Well, there are three types of doulas:
Birth doula
This is the most common type of doula.
They help women prepare for birth and then support them through labor, delivery, and the immediate postpartum period.
Postpartum doula
Often a doula will be a birth and postpartum doula.
A postpartum doula will help new parents adjust to life with a newborn, offering practical advice about things like breastfeeding, bathing your baby, and nutritional support for the new parents.
Timing can range from a one-time session to daily support for several weeks.
Antepartum doula
This type of doula can help if your pregnancy is high-risk or particularly difficult, like if you are on bed rest or expecting multiples.
It's recommended to look for a certified doula (not all doulas are).
Organizations like DONA International have a search tool to help you find doulas in your area.
If you're wondering, is a doula a nurse?, the answer is usually no, though some nurses are doulas as a side business, or nurses who become doulas as a retirement job.
Do doulas help with breastfeeding?
Sometimes, yes, particularly if they are a postpartum doula or a doula who is also a lactation specialist.
If you're looking for a doula who is also a breastfeeding expert, it's worth asking them while you're going through the hiring process.
118 women are talking about 'doulas' on Peanut. Download the app to join the conversation.
Why would a woman want a doula?
So why hire a doula?
Think of them as your birth cheerleader, supporting you through what can be the most challenging and amazing time of your life.
Research has shown that women who have a continuous companion (such as a doula) throughout labor are more likely to have a quicker birth, rely less on medical pain relief, report a more positive birth experience, and have a more successful breastfeeding journey.
However, a doula won't be for everyone.
Birth is a very intimate and special time, so you may prefer to be alone or have minimal company during your birth experience, and that's absolutely fine.
But if you're worried about losing your voice, or not understanding procedures or interventions suggested by your medical team, a doula might be for you.
A doula can also be a great idea if you don't have a birthing partner — whether you've chosen to embark on parenthood alone, or if your partner may be away for work or your family lives far away.
A doula is a trained companion to uphold your wishes and verbalize your preferences while you may be… er… otherwise occupied, ya know, having a baby.
What are the disadvantages of doulas?
One of the main disadvantages of hiring a doula is the cost.
Depending on how long you want to have them around, their salary can add up.
Some doulas don't have experience, training, or qualifications, either, as they're not required to become a doula, so it's worth checking out their qualifications during the hiring process.
Some of our Peanut mamas who hired doulas also mentioned that their partners felt a bit "useless" while the doula was around, too, so it's worth discussing with them too, if you feel the need.
What should I look for when hiring a doula?
Qualifications and experience are the most important things to consider when hiring a doula.
This part can be tricky, as there are no requirements to have qualifications to become a doula at the time of writing.
However, DONA International has some great resources if you're looking for specific qualifications or training for the best doula for you.
Next, you'll want to make sure you get on well with your doula ‒ after all, you may be spending quite a bit of time with them, and they'll be getting to know you pretty personally, so someone you feel comfortable with is important.
And before you think about hiring a doula, it's worth working out your budget ‒ you don't want to have a great interview with a doula, decide you want to hire them, then figure out they're not in your budget.
What questions should I ask a doula?
If you've decided you want one, here are some key questions to ask a doula:
What qualifications or training do you have? Training and qualifications aren't necessary to become a doula, but it's well worth finding one that is qualified, so you know you're getting sound medical advice.

Why did you become a doula? This can tell you a bit more about their personality and their journey to becoming a doula.

Are you working with other clients with a similar due date to me? If there's a clash, they may have scheduling conflicts.

Are you a birth doula, postpartum doula, or breastfeeding doula? Make sure they offer a service that's what you're looking for.

Have you had any birth complications with clients? While this can be a scary question to ask (and a scary answer to hear), it's worth discussing to see how they react in a stressful situation or crisis.

How much do you charge and what packages do you offer? So you can manage your expectations when it comes to paying.

How long have you been a doula? You may be after someone with more experience.

How many babies have you birthed? This is mainly a question for a birthing doula.

Do you have insurance? Whether it's public liability insurance or something else, it's worth knowing you and your doula are covered.

Do you have any references or reviews? It's all well and good talking with the doula themselves, but talking with one of their past clients gives you the real story.
Are doulas only for natural birth?
We're not really fans of the term "natural birth", we prefer "vaginal birth" or "unmedicated birth", depending on what you're referring to with "natural".
But no, doulas aren't just for vaginal or unmedicated births, they can also be used for c-sections and medicated births.
It's worth asking your doula about their experiences with different types of birth during the interview process, too.
What is a doula vs midwife?
So what is the difference between a midwife and a doula?
There are three main differences between midwives and doulas.
A midwife is medically trained.
Generally, they will be a registered nurse with a master's degree in nursing, specializing in midwifery.
This means they know the medical ins and outs of labor and birth.
A doula is not medically trained.
Instead, they provide a more holistic approach to supporting you, and offer pain management through non-medical techniques.
A midwife may be looking after numerous women in labor, so may not be able to support you through your whole birth.
Your labor may last longer than your midwife's shift, so it's common to have multiple midwives attend to you throughout your birth.
On the other hand, your doula is there from beginning to end, supporting you at every step.
Your midwife and medical team are there for you, but they are also looking out for the medical well-being of your baby.
Once your baby is delivered, they will oversee the health of your newborn, too.
Doulas are there primarily to support you.
What does a doula get paid?
The cost of doula services will vary depending on the level of care you need, so if you're wondering what is a doula salary?, there is no clear-cut answer.
Some doulas may charge a flat rate while others may charge by the hour.
In the US, doula services regularly cost between $800 to $2500.
It's quite rare for insurance to cover doulas, but it's worth checking with your provider.
What is the demand for doulas?
Interestingly, the demand for doulas in the US and UK has been increasing quite a bit over the past few years.
There's less of a stigma in asking for help, and more of a focus on the mother as well as the baby during childbirth and postpartum.
So if you're worried that people may think it strange that you've hired a doula to help out, try not to fret ‒ you do you, mama.
How many people use a doula?
There aren't any recent or accurate figures as to how many people use a doula in the US or around the world.
However, in a 2012 study, around 6% of birthing people said they used a doula during childbirth.
113 women are talking about 'doulas' on Peanut. Download the app to join the conversation.
How long does a doula stay after birth?
As long as you want ‒ it depends on the service you've hired them for, and what you've agreed.
If you want your doula to stay for longer than you initially agreed, ask them about their availability and new cost.
Generally, people tend to have a postpartum doula for the first 6-8 weeks after birth, but if you want to have a doula for a few months or even a few years after that, go for it!
Is it worth getting a doula?
Doulas are becoming a more popular addition to the birthing team, so it's worth doing your research.
Looking for certified doulas in your area can take time, so start the search sooner rather than later in your pregnancy.
While it's important to nail down the practicalities — like making sure your preferred doula is available around your due date, and you can afford their fees — it's also really important to make sure you and your doula's birth philosophies are compatible.
After all, they will be supporting you, and advocating for you, at one of the most important times of your and your baby's life.
So, to doula or not to doula? That is the question.
And only you know the answer, mama.